National Museum of Denmark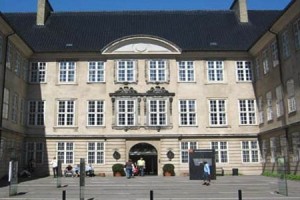 The National Museum of Denmark is the largest museum of cultural history in Denmark. It covers Danish history, from prehistory until modern times. Besides the Danish collections, an important part of the museum is its ethnographic collection.
The National Museum of Denmark is the world's oldest ethnographical museum which opened in 1849 and was founded by Chr. J. Thomsen. The collection has its origins in the Royal Cabinet of Curiosities of King Frederik III and Ole Worm from the 17th century.
The permanent ethnographical exhibition takes the visitor on a journey around the world. From Asia it features artefacts such as Indian temple sculptures, priceless lacquer ware from China and Japan, Buddhist art and Javanese shadow-play figures. The oldest objects in the collection are from "The Indian Chamber", which was once a part of the Royal Cabinet of Curiosities. This also includes objects from China, East India and several other places. During the 19
th
century, many objects were brought home from expeditions and European colonial possessions all over the world, which led to an expansion of the museum's collection.
Collection size:
The collection size is about 6 million pieces. In the Ethnographic Department, there are around 200,000 pieces collected from all over the world. Moreover the Ethnographic Department also holds a collection consisting of 200.000 photographs from all the corners of the world.
Collection:
The museum contains a very large amount of Danish archaeological artefacts. The collections range from prehistoric Denmark up until current day. Besides the collections originating in Denmark, the Ethnographic collections count various sculptures, paintings, ceramics, textiles, metalwork, furniture etc. from each of the continents. In the Asian collections there are ethnographical and archeological artefacts from India, Indonesia, Japan, China, Korea and Siberia, and so on.