Crossing Continents, Converging Culture: The Asia-Europe Cultural Festival 2023 in Review
The beginning of November saw the close of the Asia-Europe Cultural Festival 2023 in Singapore, featuring artists from over seven different countries in Asia and Europe. Michael Neo shares their review of the events which took place from 22nd October to 1st November 2023.
Having graced other capitals such as Brussels, Phnom Penh and Madrid, the Asia-Europe Cultural Festival washed upon Singapore's sunny shores for the first time. Organised by the Asia-Europe Foundation (ASEF), an intergovernmental not-for-profit supported by 30 European and 21 Asian countries, the European Union and the ASEAN Secretariat, the festival aimed to encourage artistic exchanges and conversations between Asia and Europe. This year's edition marked the fifth anniversary since its conception in 2018. It introduced the newly-launched ASEF LinkUp | Asia-Europe Cultural Diplomacy Lab for creatives and diplomats, and was packed with film and multidisciplinary performing arts showcases for the public.
100 Years of Solitude: The Perfect Motion and the Cambodia Royal Ballet
The festival opened with The Perfect Motion, appropriately screened at the Asian Civilisations Museum, blending past and present, artefact and art. Such is the nature of the documentary film tracing Cambodia's Royal Ballet, directed by French filmmaker Xavier de Lauzanne. At the request of HRH Prince Sisowath Tesso, Lauzanne's film followed the dance troupe through a roller-coaster of events, from its heyday in the early 20th century, to the turmoil under Pol Pot's Khmer Rouge and through till its restoration today.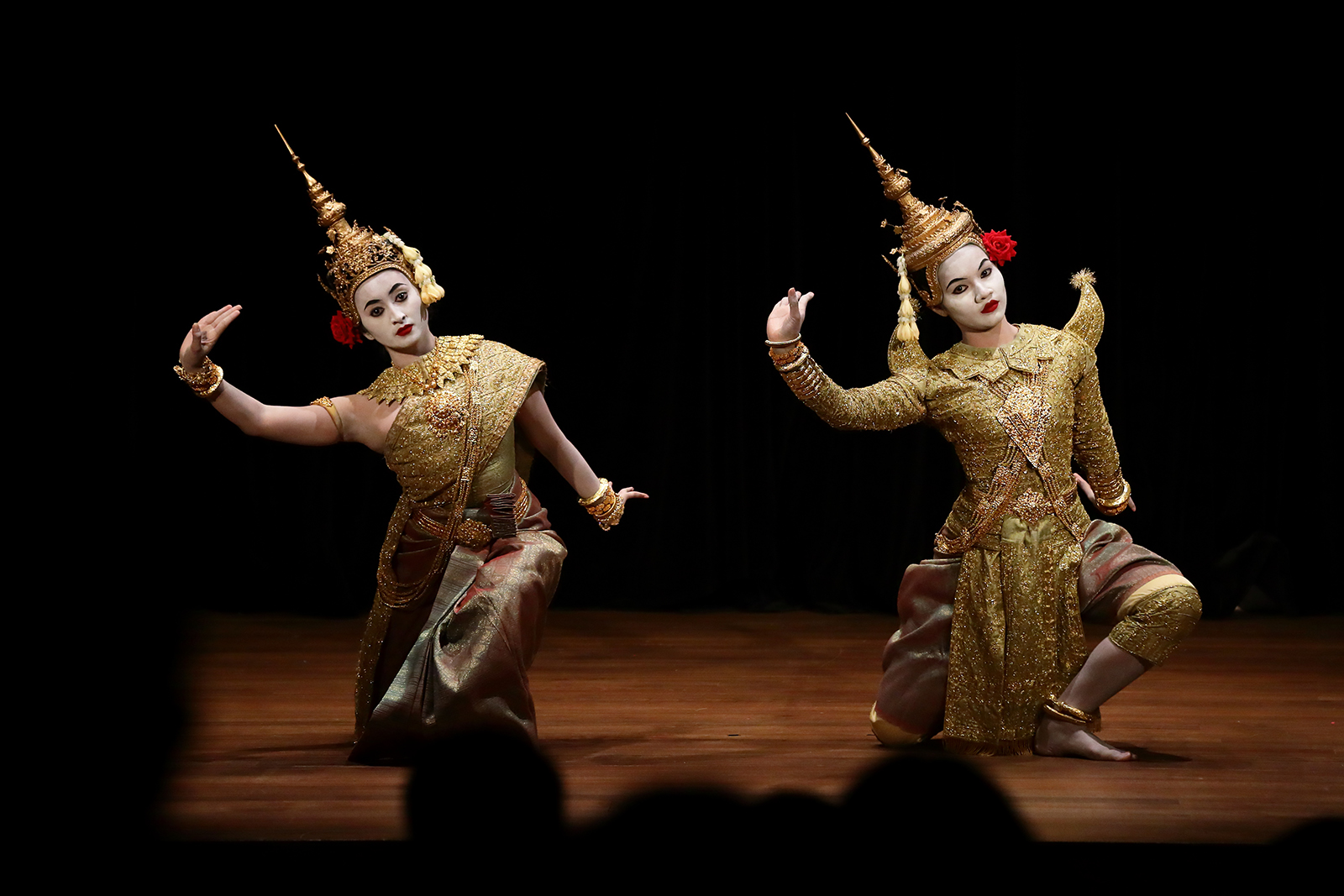 1. Dancers performing a traditional Cambodian piece at The Perfect Motion film screening © Asia-Europe Foundation 2023
From century-old footage to contemporary interviews, it is perhaps the documentation of the film's violent climax that stands out most, at once showcasing the duality of humanity, its capacity for destruction and for hope alike. This comes across as no surprise for Lauzanne, who is no stranger to 'troubled' areas, with previous films being made in countries such as Syria, Palestine and Israel.
There was, prior to the film, a possible concern about the colonial gaze – Cambodia was after all a French colony up till 1953 – where former colonies are studied as an object in an uneven power dynamic as in the days of Rodin, but these anxieties were quickly put to rest. Having lived in Cambodia for eight years prior and set up an NGO in the region, Lauzanne gracefully chronicles his subject with dignity and respect, proving that a healthy, mutual fascination with oriental and occidental cultures promotes understanding and appreciation that transcends nationalities. Such is most evident from how he was entrusted by Prince Sisowath Tesso himself, the great-great-grandson of King Sisowath and Director of the Princess Buppha Devi Dance School, to take on this project.
Demonstrably, Lauzanne came to approach this story as a universal one: a story about the resilience of art and the triumph of humanity even through desolation, and the importance of preserving cultures through the example of the Royal Ballet – a story that resonates across borderlines.
Traditional Postmodernity: The Golden Temple
On the other side of the coin was The Golden Temple by Estonian choreographer and director Teet Kask, with musician Robert Choi, vocalist Laura Poldvere and dancers Anita Kuroljova and Kyoshiro Oshima. At first glance, it delved headfirst into the contemporary and the avant garde where The Perfect Motion has placed emphasis on tradition. His inspirations were, however, notably older: Yukio Mishima's the novel The Temple of the Golden Pavilion, published in the 1950s. But the piece itself is decisively postmodern. Described as a 'multidisciplinary theatre experience', it harnessed the skill of three performing arts genres, dance, music, and vocals, as well as visual and video art, with artists from different cultural and professional backgrounds.
Appropriate to this fusion was the myriad on stage that was sometimes beautiful, sometimes haunting, and other times unnerving and unknowable, almost artistically random, and always unpredictable, leaving the viewer curiously invested and alienated all at once in its intensity.
Despite this, Kask, equipped with a background in classical fields such as the Estonian National Opera, Royal Swedish Ballet and Norwegian National Opera and Ballet, believes that his ventures into postmodern theatre should still be comprehensible to the audience and able to connect with them, something which the contemporary theatre scene sometimes lacks.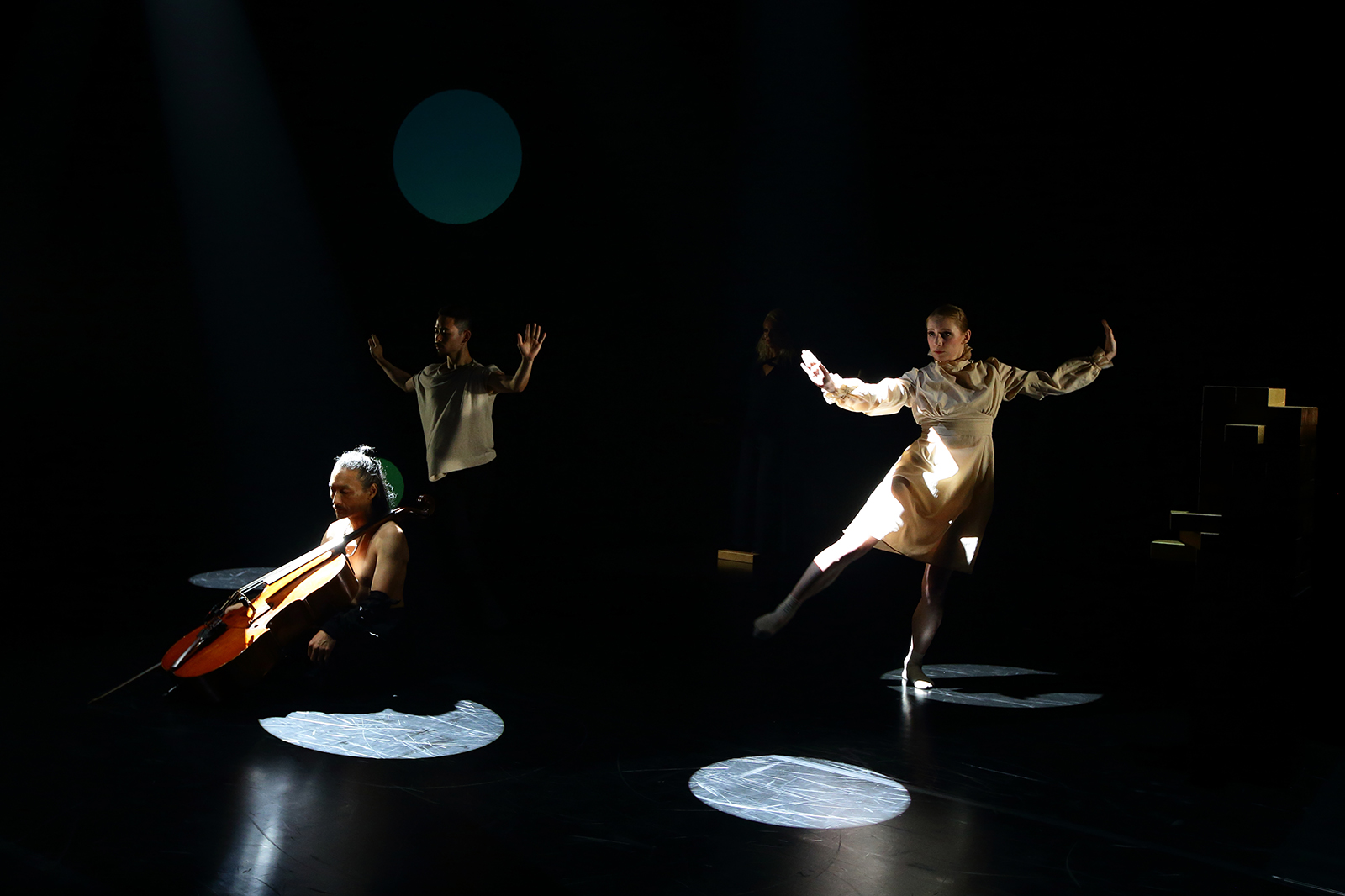 2. Stills from The Golden Temple performance © Asia-Europe Foundation 2023
Trance of the Dance: X
Yet another performance utilising dance was the feminist contemporary showcase X, which brought together dancers Olimpia Fortuni and January Low, and sound artist Katatonic Silentio.
Inspired by shamanistic practices, the central focus of the piece, notably, was to connect and bridge, the way a shaman acts as the intermediary between realms.
As such, X combined natural and meditative soundscapes and vocals, encouraging its audience to get in touch with their inner selves. This was again further pushed in its incorporation of the polarities of traditional and contemporary, as well as Eastern and Western dance forms. Here, dancers of both practices came together over the aforementioned soundscape, as if meeting on a transcendent plane where such differences complemented, rather than conflicted, with each other.
Perhaps this impact was best demonstrated in a poignant moment during the question-and-answer segment afterwards, where an audience member versed in local sign language recognised and related to the use of Italian sign language at the start of the dance despite not understanding it. Thus, X 's success in bonding beyond words and national borders.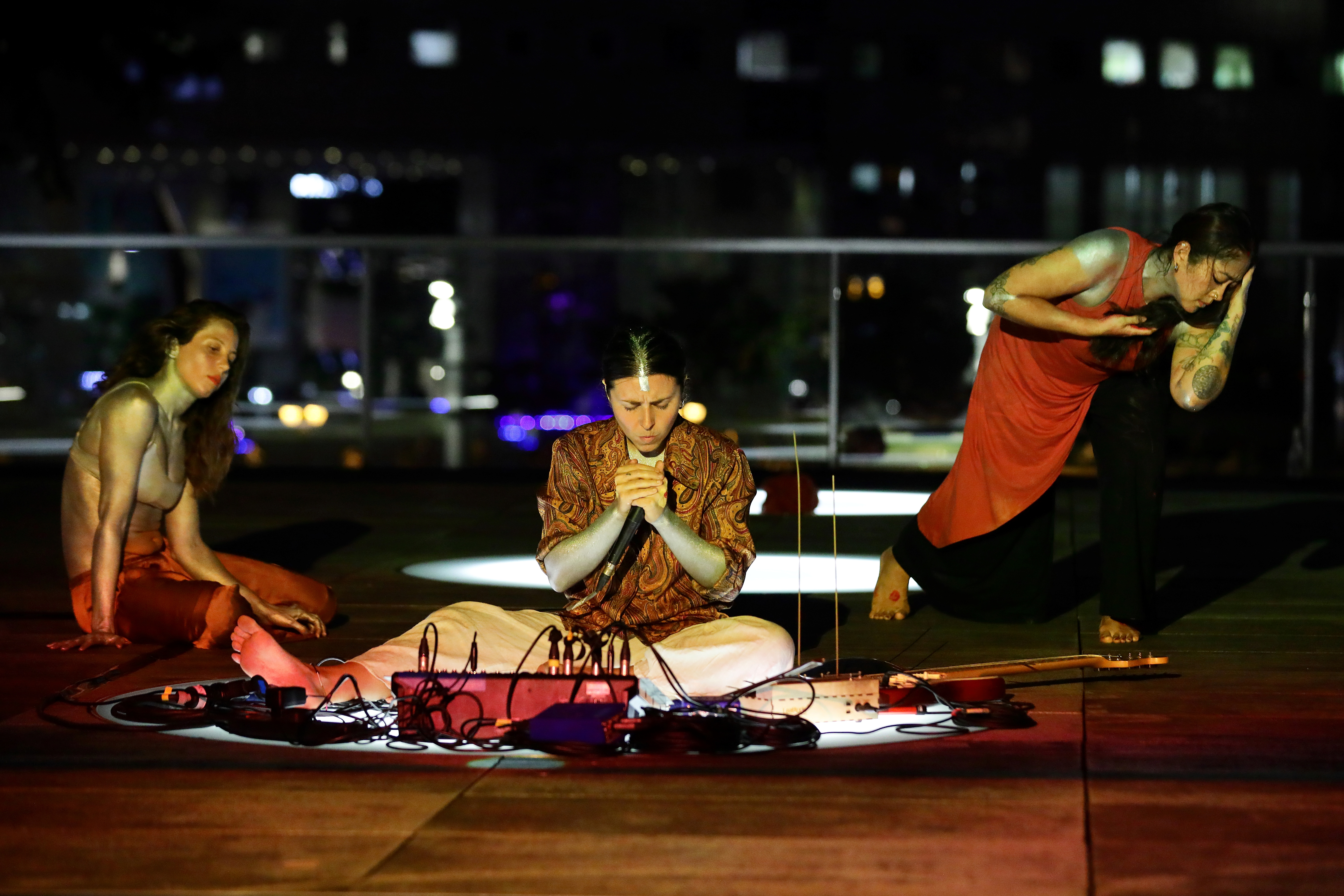 3. Dance and soundscape come together in X © Asia-Europe Foundation 2023
Pictures That Burn: Framing the Future: Photography's Impact on Climate Awareness in Southeast Asia
The Asia-Europe Cultural Festival concluded with "Framing the Future: Photography's Impact on Climate Awareness in Southeast Asia", a joint exhibition and panel with the photographers, journalists and scientists of the project. In collaboration with the NOOR Foundation's workshop, this exhibition provided a glimpse into their bigger plan of using photography as a means to educate about the worsening climate crisis. The choice of medium can be ascribed to how a picture is worth a thousand words and transcends language and cultural barriers, with NOOR Creative Director Stefano Carini citing our shared human history of passing on knowledge through visuals. On top of this, photographs have also been synonymous with capturing an objective truth since their conception.
From burning cornfields, flames and leaves entwining in their destruction, to plastic washed up against an idyllic tropical beach as far as the eye can see, the photographs taken indeed stressed this devastation by starkly juxtaposing horror and beauty.
Founded seventeen years ago, the NOOR Foundation asserts that climate change is still a pressing issue as its impacts are ongoing and, if anything, worsening with time. Hence, capturing its impacts in Southeast Asia, where the agrarian lifestyle is still prevalent and many communities feel the ramifications first-hand. Among this team of photographers, several, like Ponita Keo's focus on the impacts of climate change on women in these societies, highlighted the intersectionality of this global disaster.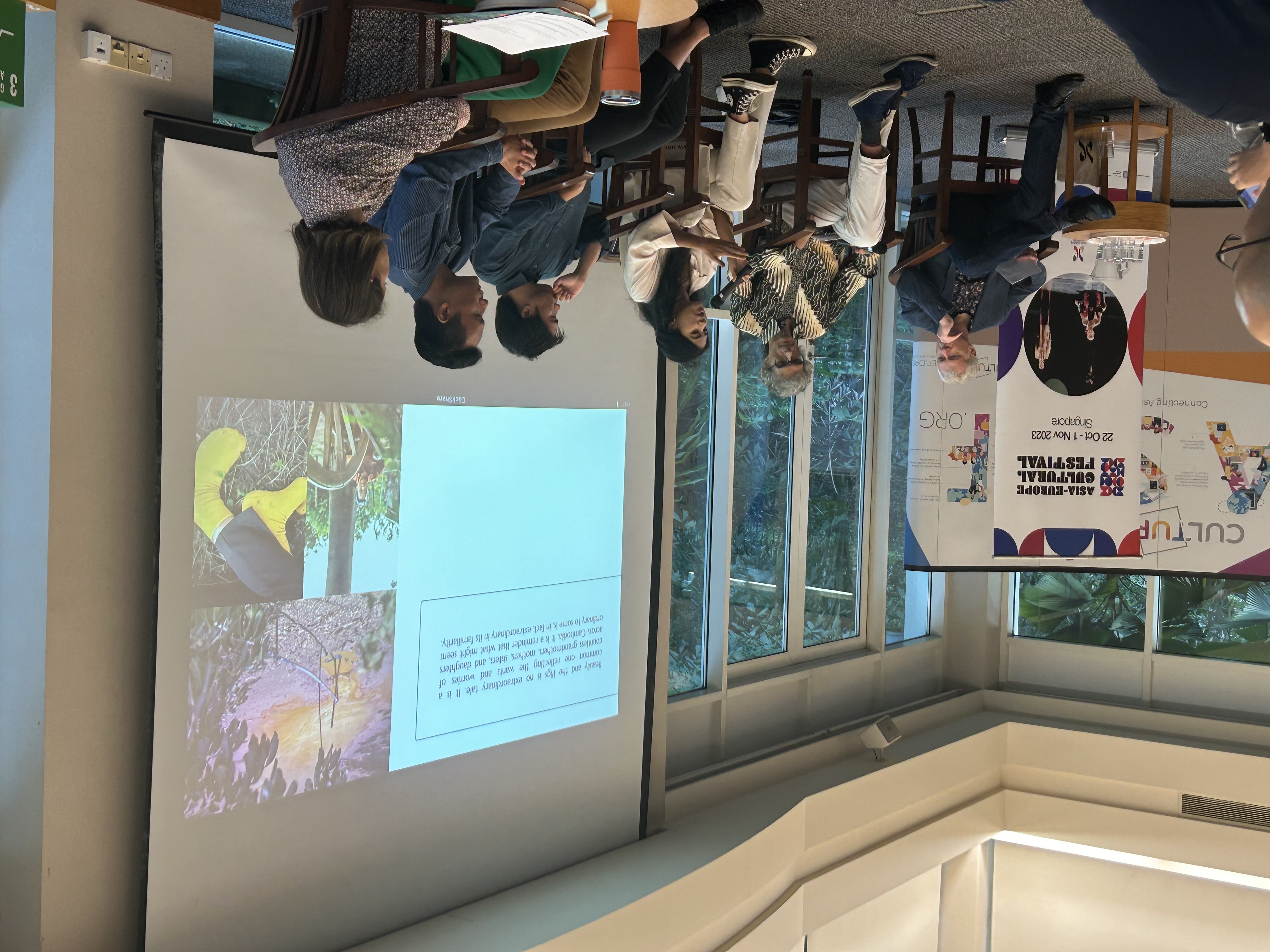 4. Photographer and participant of NOOR Foundation's Visualising the Climate Crisis programme, Ponita Keo speaking at the Framing the Future roundtables © Asia-Europe Foundation 2023
In conclusion, the 2023 Asia-Europe Cultural Festival was a potentially powerful and promising one, with many creatives and other professionals seeing this as a milestone for future projects. We certainly hope this year's festival was the launching pad they were looking for to connect with more global audiences, the way they have connected with local and international audiences here in Singapore. There are only high hopes as to what next year's festival will bring, here or in other parts of the world.
Cover Image: Audiences at the Asian Civilisations Museum for X © Asia-Europe Foundation 2-23
---
Interested in knowing what happened during this year's Festival? Read Asia-Europe Cultural Festival: 2023 | Highlights
Find out more about the journey behind the artists' productions put together for the Asia-Europe Cultural Festival:
The Asia-Europe Cultural Festival is organised by the Asia-Europe Foundation (ASEF) and funded by the European Union, with the generous support of the Embassy of Italy in Singapore, the Embassy of Estonia in Singapore, and Casa Asia. ASEF would also like to thank the Asian Civilisations Museum (ACM) and Dance Nucleus for their support.
---
About the Author
Michael Neo is a Theatre Studies and History student by day, journalist by evening, and fringe entertainer by night. They have studied in Singapore and Dublin, and come from a family of visual artists, shaping their interest in the arts. Melding this niche with their background in European history, they mostly write for international and cultural events, but are always up for a challenge. Their recent works include coverage of the Affordable Art Fair Singapore and Light to Night festival.