Asia-Europe Cultural Festival: 2023 | Interview with 'X'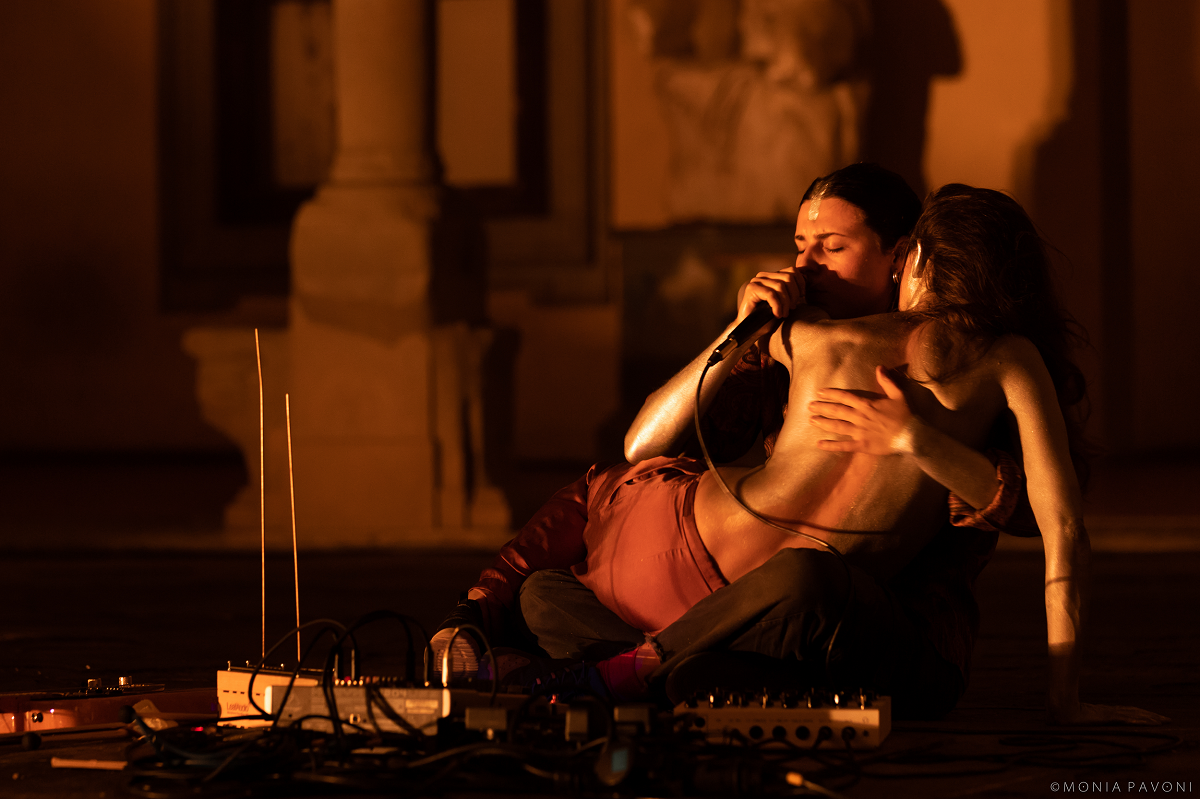 The Asia-Europe Cultural Festival is a public arts festival that celebrates the artistic diversity of Asia and Europe and promotes the dialogue and exchange amongst artists from the 2 regions. In 2023, the Festival will be held for the first time in Singapore from 22 October to 1 November. We speak with Italian dancer and choreographer, Olimpia Fortuni and January Low, choreographer and dancer from Malaysia, both of whom will be presenting 'X' at the festival.
1. In your own words, please introduce yourselves. The both of you have been working together online over the past few months as part of the research process, before 'X' will be performed in Singapore in the frame of the Asia-Europe Cultural Festival next month. Share with us more about how the research and collaboration process has been like thus far.
Olimpia Fortuni: I am a dancer and choreographer. After graduating as a dancer from Civica Scuola di Teatro Paolo Grassi in Milan, Italy and attending a two-year course with Raffella Giordano (who used to dance with Pina Bausch's company and Carolyn Carlson's company), I worked in Italy and abroad, both as a dancer and actress. I think dance is any form of movement that one can imagine, including the voice.
Meeting January was very natural, her openness to movement and research allowed me to get straight to the heart of the process. We met online to get to know each other and to share ideas and shamanic practices. I'm looking forward to meeting her in person and developing the new form of 'X' together.
January Low: As a dancer and choreographer born, raised, educated and based in Kuala Lumpur, my journey in dance started with classical ballet. For the last 30 years, I have since delved into an Eastern classical Indian dance form, Odissi.
I went into this project with an open mind and without any preconceived outcomes. I was curious to work with artists from different practices and discover resonance and intersecting questions and narratives. Olimpia and I agreed to meet each other through video calls once a month as a way to check-in and get to know each other, so that when we finally meet and perform in Singapore, we'd be able to jump into work right away as we'd already be familiar with each other's artistic enquiries and interests.
| | |
| --- | --- |
| | |
| 1. 'Islanda boarding pass' by dancer, choreographer Olimpia Fortuni © Cinzia Sità | 1. 'A Listening Body' by Kuala Lumpur based dancer, choreographer January Low © Vinoth Raj Pillai |
Questions 2 and 3, are answered by Olimpia, who is the creator of 'X'.
2. Olimpia, as the creator of 'X', what were your thoughts in choosing 'X' as the title of the performance and has that meaning evolved in any way since the first showcase in 2022 in Italy?
Olimpia: The letter 'X' in Italian also means the preposition "per", i.e. "for", thus conveying additional meanings in the title. After the pandemic, the idea was to create a gift for the audience. The meaning of which has since evolved into a real exchange between audience and performers.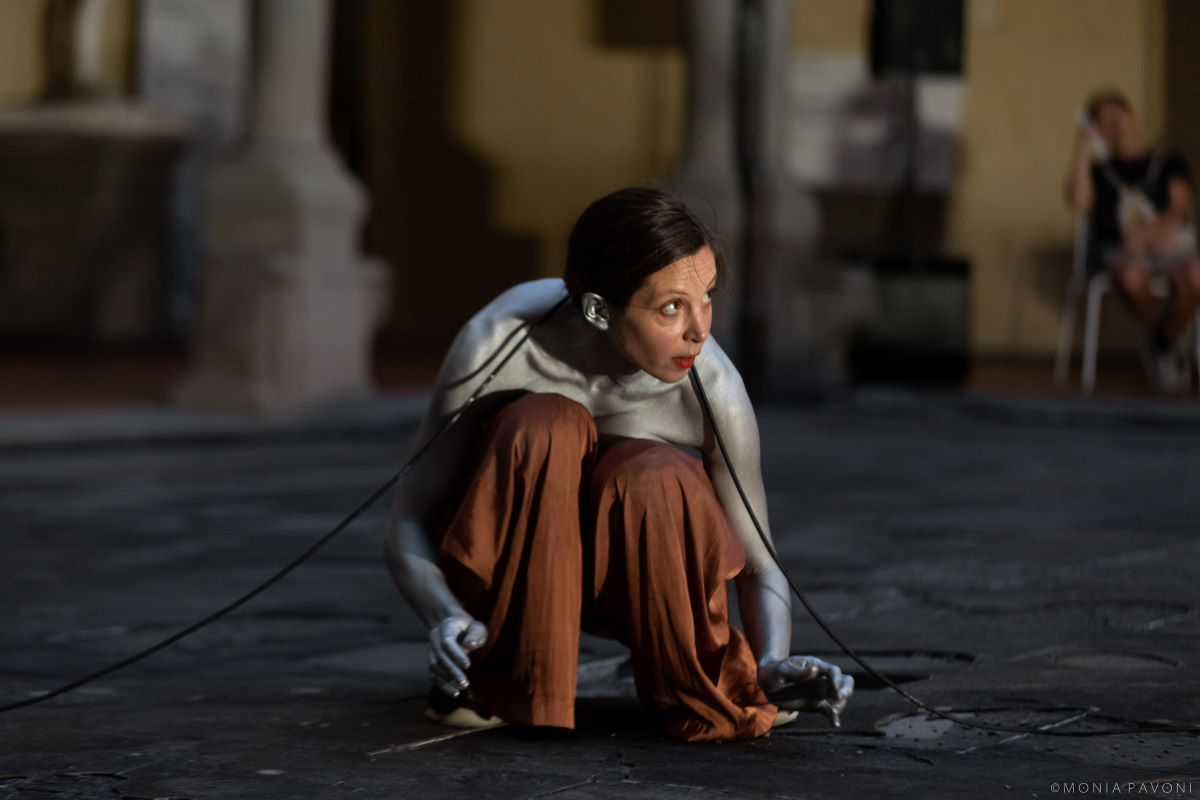 2. Performance of 'X' by Olimpia Fortuni and Katatonic Silentio at the Fabbrica Europa Festival 2022 © Monia Pavoni
3. What were the inspirations behind the choreography and creation of 'X'? Is there a message that you wish to convey to audiences through the performance? 'X' has been performed several times over the past year, what is it like to revisit the show with each performance, considering the change in space and location?
Olimpia: My first inspiration was the meeting with the musician, Katatonic Silentio (Mariachiara Troianiello). Getting closer to sound in the most authentic and honest way possible, rediscovering my "natural" movement thanks to the shamanic practices, have opened the doors to listening to the spirit as well as self-awareness. The message behind the work is the exchange, the listening, the search for others through care and love. Simple values that capitalism has eradicated.
Performing outside the theater is a choice. Personally, I'm tired of black boxes, especially after the pandemic, it was impossible for me to lock myself in a theater again. Changing up spaces and places each time means training the senses to listen to the subtle and like a musician becoming a jazz player of the body in relation to space and time that changes from place to place. The meeting with January is the strength of the proposal in this edition of 'X', which requires fluidity and being open to change.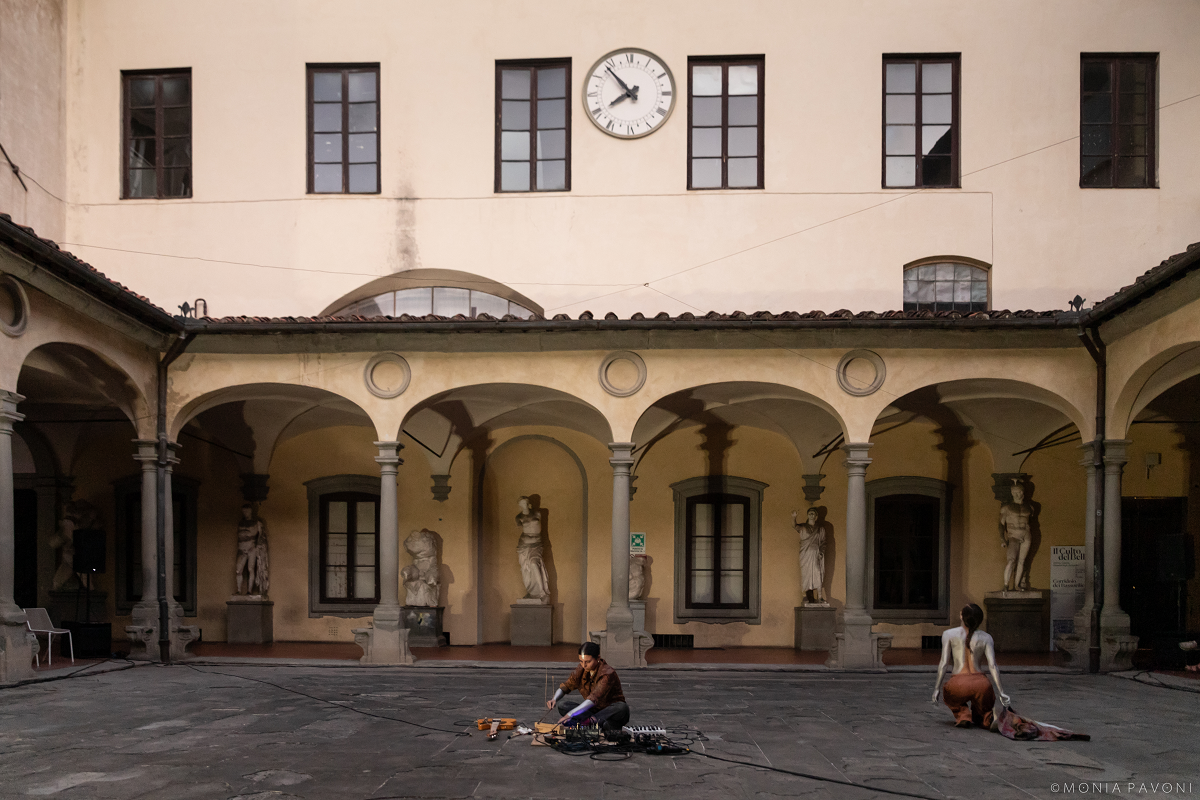 3. Performance of 'X' by Olimpia Fortuni and Katatonic Silentio at the Fabbrica Europa Festival 2022 © Monia Pavoni
The following question was answered by January, who has been brought into the upcoming restaging of 'X' for the Festival, to highlight the artistic diversity and collaboration between European and Asian artists.
4. January, you have over 30 years of experience in the Indian classical dance form, Odissi, what aspects of it has sustained your interest over time? How do you think your background in Odissi has helped in reshaping 'X'?
January: Being an active witness to how Odissi has and continues to evolve in my body over the past 30 years has kept my practice sustainable. I'm currently interested in peeling away from the commodified and familiar exoticised elements of Odissi. Also, I am keen on developing entry points into the form to create more agency for the audience and performer.
During the pandemic, I started to question what was lost when the whole world went online, and I discovered that the 'intangible' experience shared between the artist and audience was invaluable and very precious to me. I am curious to explore this intangible 'X' with Olimpia through my practice of Odissi.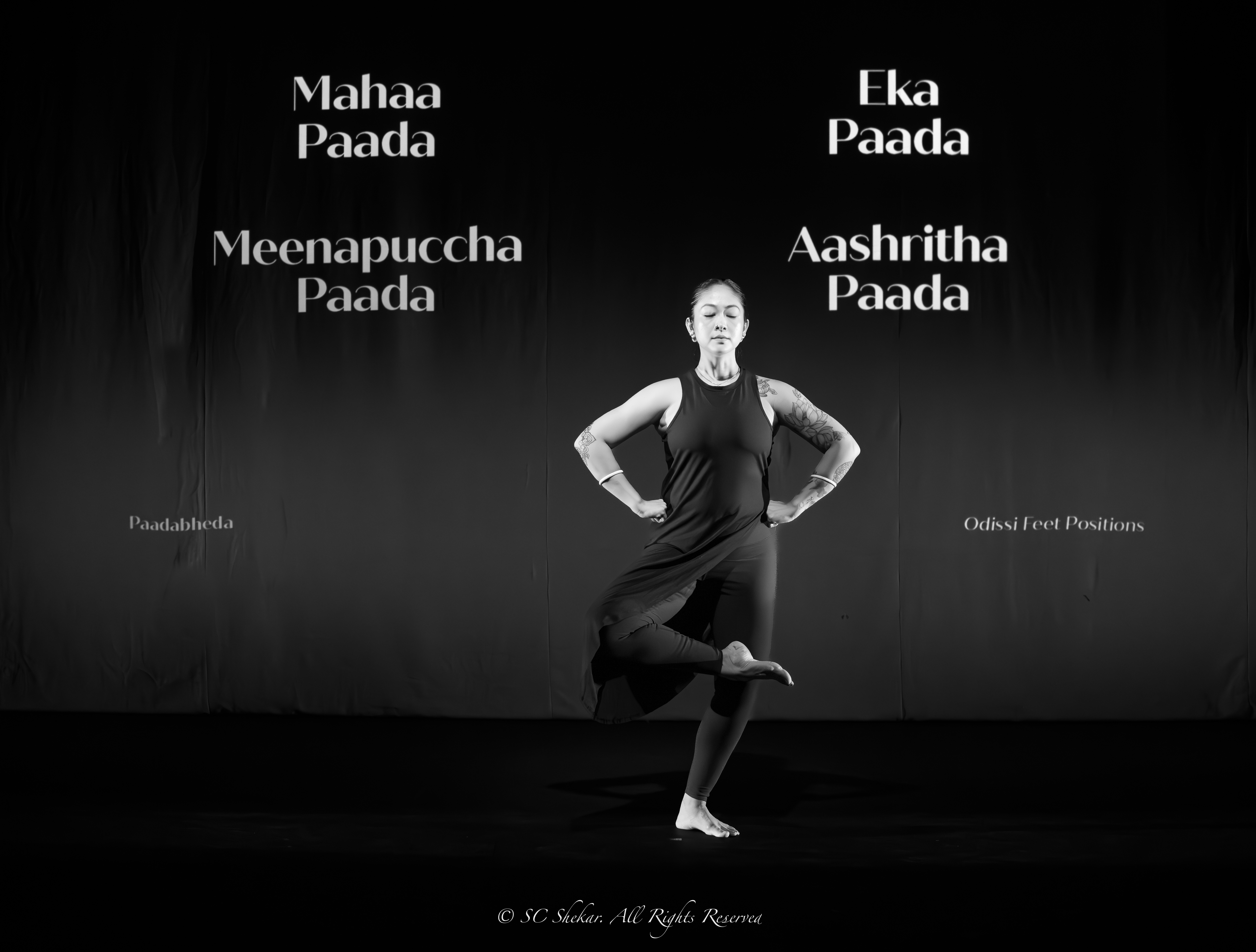 4. 'A Listening Body', a recent dance-theatre solo by January, based on her thoughts and questions in and around Odissi © SC Shekar
5. With the COVID-19 pandemic, opportunities for international cultural exchanges have been dramatically reduced, although we are slowly getting back on track. Any advice for artists who aspire to collaborate across borders, like the both of you did?
Olimpia: What I'm used to doing in my job is looking for and surrounding myself with people that sincerely respect my research, and this is my personal advice. In this case, it is thanks to Maurizia Settembri that I am happily here. She sowed in my research and January's research something in common to develop together. I see this type of opportunity as a gift to grow and develop and I'm really thankful to collaborate across the borders.
January: I think when artists are brought together, it takes time to learn about each other's culture, artistic questions, practice and art can never be forced. I believe that the art needs to present itself and artists need to be present for this to take place. Initial dialogue and conversations are very important in the early stages.
6. What excites you about 'X' and its themes, and being part of this upcoming production in Singapore?
Olimpia: 'X' is a metaphysical journey and all the work is around and about journey-ing into the inner world. Thanks to this complex journey, I am exposed to a new culture and be acquainted with January, connecting me with her is our passion for dance, bound by the sound of a great musician.
I hope that through my work the audience will enjoy the same feeling where sound and movement have the same aim of bringing two worlds together into a new one.
January: I believe that Olimpia and I are both exploring the 'intangible' force of the divine feminine in her many forms. The process of creating 'X' together will be the bridge between cultures, realms, power and much more.
Cover Image: Performance of 'X' by Olimpia Fortuni and Katatonic Silentio © Monia Pavoni
---
Catch this contemporary dance performance as part of the Asia-Europe Cultural Festival on Friday, 27 October 2023, 8pm in Singapore:
X - Olimpia Fortuni e Katatonic Silentio (2022) | Trailer from Sosta Palmizi on Vimeo.
BOOK NOW on Eventbrite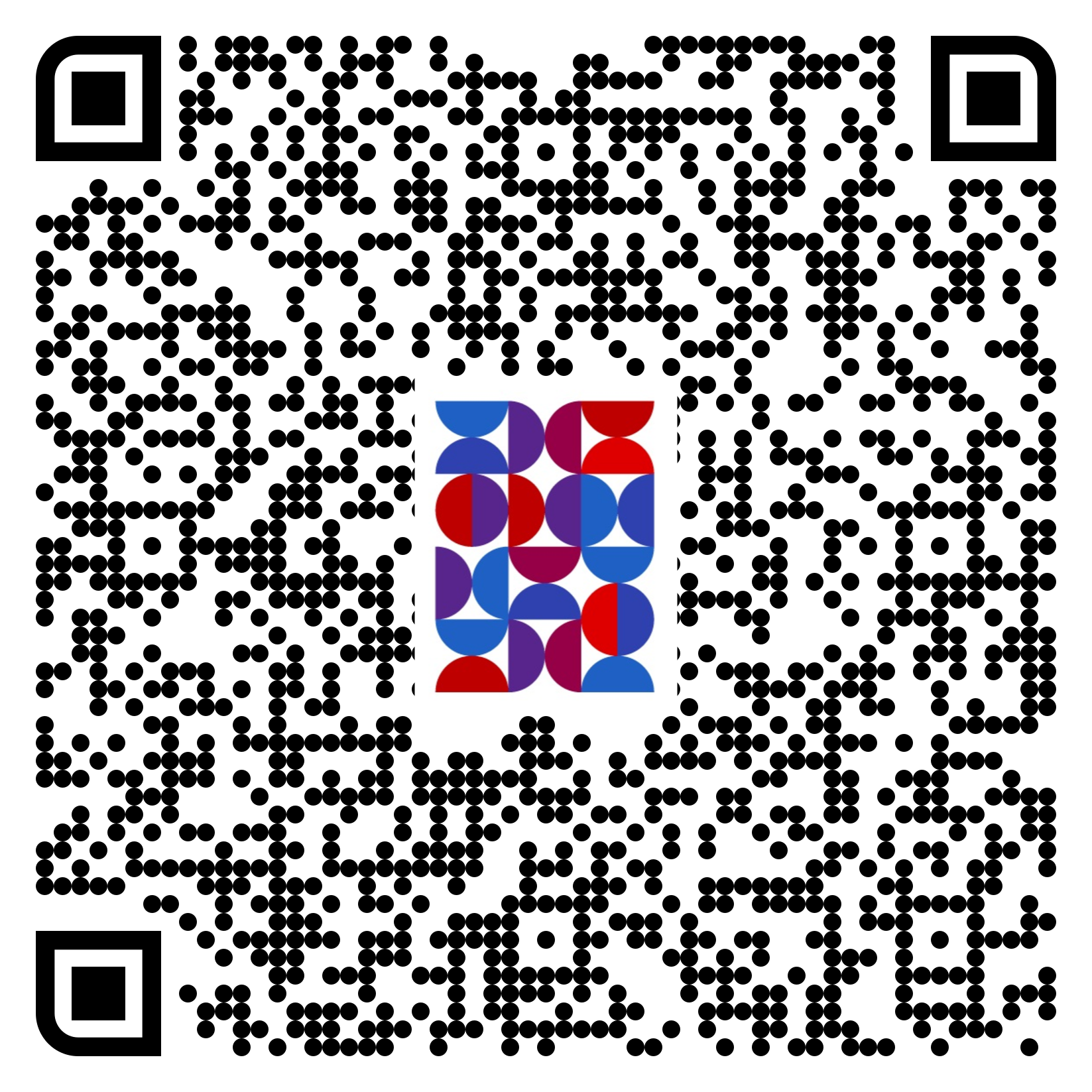 Supported by the Embassy of Italy in Singapore, this event is part of Asia-Europe Cultural Festival 2023, CLICK HERE for the full programme.
---
About the Interviewees
Olimpia Fortuni is an Italian dancer and choreographer. She has presented her work as a choreographer since 2014 in numerous dance festivals in Italy and abroad. She is associate artist of Sosta Palmizi and collaborates as an artist on many international projects. Starting from the body, her research has been based for years on the study of time as a quality of movement and on the observation of the relationship between human beings, nature and animal that are the central themes of her creations.
January Low was born, raised, educated and is currently based in Kuala Lumpur, Malaysia specialises in an Eastern classical Indian dance form known as Odissi and has been practicing for close to 30 years. Her practice observes how Odissi exists in her daily, Southeast Asian female body and investigates various entry points to create different encounters with Odissi that enables agency for both audience and performer. She is currently under the mentorship of Odissi exponent, Bijayini Satpathy.