Rimbun Dahan Southeast Asian Arts Residencies call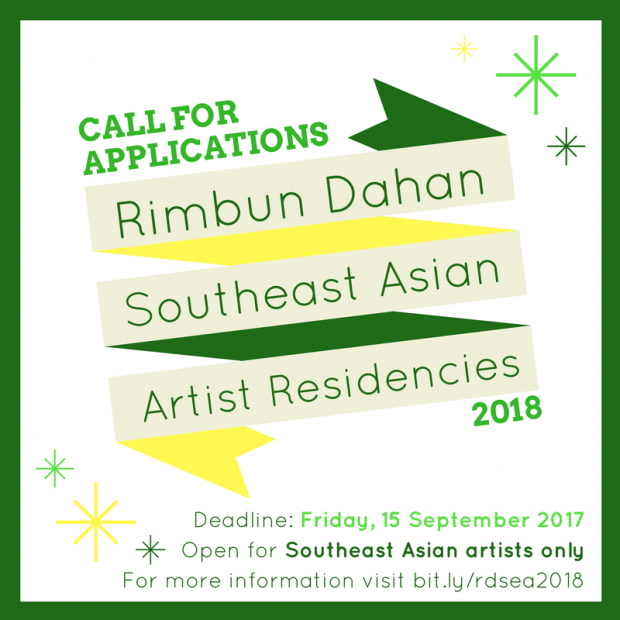 Applications are now open for Rimbun Dahan's 
Southeast Asian Arts Residency
 for 2018! Rimbun Dahan is set on fourteen acres outside Kuala Lumpur, Malaysia, a residential centre for developing traditional and contemporary art forms.
One of our leading commitments is investing in emerging/developing artistic talents in the region and furthering artistic exchange with our neighbours. We invite visual artists (of all disciplines), writers, arts managers, and researchers/curators from and based in Southeast Asian countries to submit applications for residencies in 2018. Residencies can be minimum 1 month and maximum 3 months*. We have a set budget set aside for these residencies so spots will be limited.
All applications must be received by Friday, 15 September 2017
Eligibility criteria


Artists must be from and based in the listed countries only: Brunei, Cambodia, Indonesia, Laos, Malaysia, Myanmar, Philippines, Singapore, Thailand, and Vietnam


Former Rimbun Dahan and Hotel Penaga resident artists are not eligible to apply


Expectations of the residency


Resident artists must stay and work on-site full time in the accommodation and workspace provided and engage with the other resident artists


Resident artists must make themselves available (to the best of their ability) for student groups visits, general visitors, and other outreach events (artist talks, showcases, etc) organized by Rimbun Dahan throughout the year


At the end of a residency, a visual work may be requested from the resident artist for the Rimbun Dahan permanent collection, to be discussed between the artist and the Directors of Rimbun Dahan.


What's provided by the residency


Accommodation and workspace is provided for all residents, including utilities


Monthly allowance of RM1000


Access to washing machine, exercise equipment, swimming pool, and our library and artist lounge (WiFi equipped)


Weekly grocery shopping trips


Basic administrative support


Please note that the following is 

not provided

: travel funds, airport pickup and dropoff, meals, or materials.
Rimbun Dahan is the home of architect Hijjas Kasturi and his wife Angela. Set on fourteen acres outside Kuala Lumpur, Malaysia, the compound of Rimbun Dahan is a centre for developing traditional and contemporary art forms. It features buildings designed by Hijjas Kasturi, as well as two early 20th century traditional Malay houses from Perak and Penang, in an indigenous garden environment. There are also multiple artist studios, a dance studio, an artist lounge and library, and underground art gallery.