Full Circle Lab Philippines - call for SE Asian filmmakers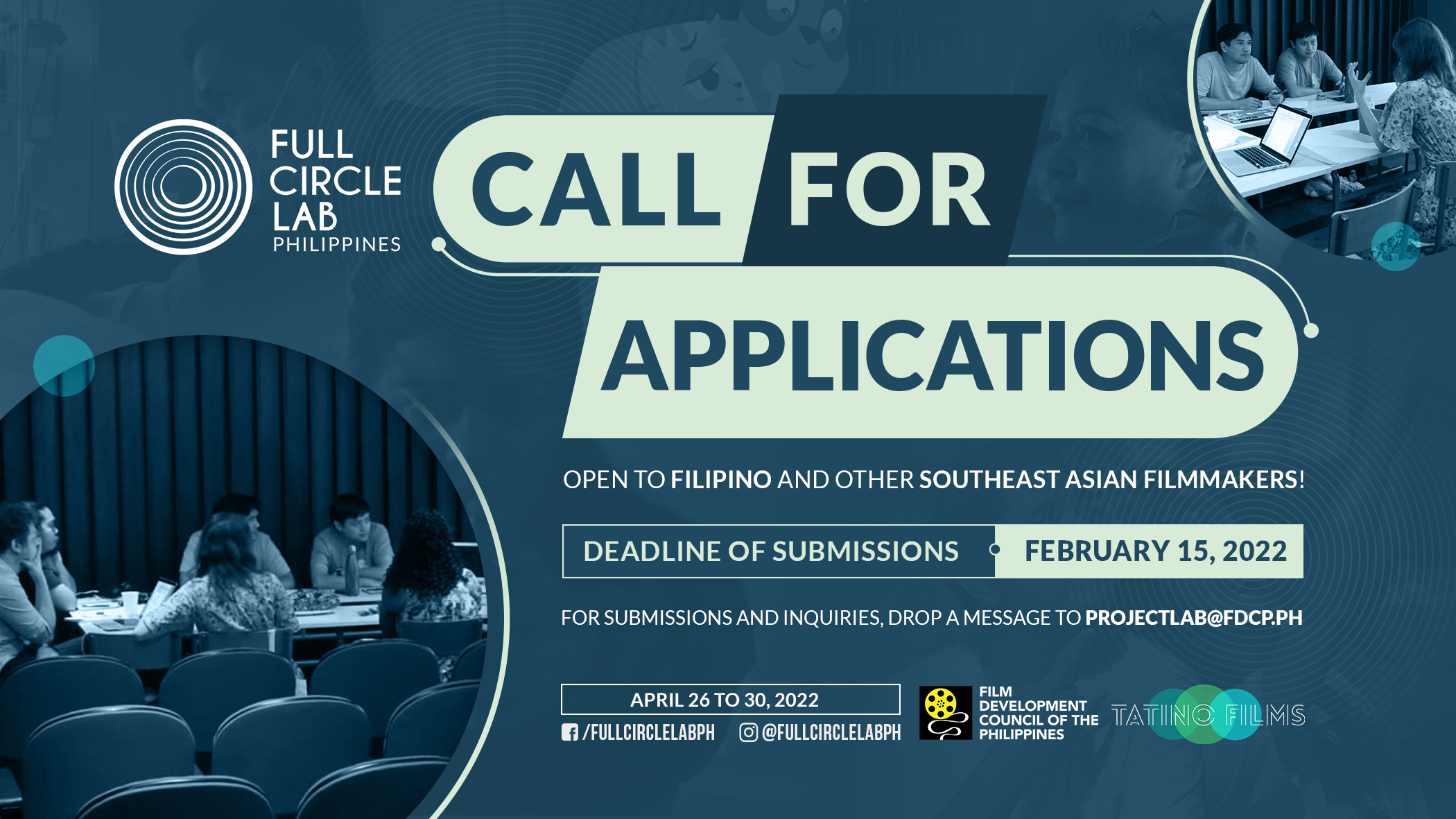 The Full Circle Lab Philippines (FCL PH), a joint capacity-building program for Filipino and other Southeast Asian filmmakers of the Film Development Council of the Philippines (FDCP) and European production outfit Tatino Films, has opened the call for applications for this year's edition.
The 2022 edition will consist of four (4) labs that will directly benefit fifteen (15) projects and eleven (11) talents, with no less than ten (10) international mentors and industry advisors involved. The Story Editor's Lab, a new section, will also be introduced and will be focusing on story development particularly in the script development stage.
Eligibility: Full Circle Lab Philippines is open to filmmakers from the Philippines and Southeast Asia countries: Brunei, Cambodia, East-Timor, Indonesia, Laos, Malaysia, Myanmar, Singapore, Thailand, and Vietnam.
Deadline for applications: 15 February 2022
The FDCP's flagship international film lab for Filipino and Southeast Asian films and filmmakers was renewed for another three-year cycle which will cover 2022 to 2024—a long term plan that will culminate into the FCL Horizons 2025. The project will be in hybrid format consisting of an onsite residential workshop in April and follow-up online sessions in September 2022.
The program aiming to provide opportunities for filmmakers and producers to further develop and elevate their projects will be opening its doors to participants of the following films labs:
Fiction Lab - twelve (12) projects in development (feature films, series, animation)
First Cut Lab - three (3) projects in post-production (feature films & documentaries)
Creative Producers Lab - eight (8) producers with or without project/s in development
Story Editing Lab - three (3) participants
Full Circle Lab Philippines aims to identify, nurture, and train creative talents in the Philippines and other countries in Southeast Asia by supporting film projects along their development & post-production processes in order to enhance their artistic and audience potentials with a focus on storytelling. This program also aims to foster the internationalization of the Filipino film industry and position the Philippines as a creative hub in the Southeast Asian region by creating synergy between the industry experts and professionals across the globe through sessions and talks. This new three-year cycle will be joined by a mentor team composed of esteemed film professionals from all over the world.
Last year, the 3rd FCL PH was held online alongside the first Philippine Film Industry Month celebration. The FCL 2021 edition has supported a total of 24 projects and participants from various countries in Southeast Asia and the Philippines.
Eligible applicants may submit the complete application package consisting of complete requirements and accomplished application form to projectlab@fdcp.ph with the subject: Full Circle Lab Philippines 2022 [Lab Category Application] ex. Full Circle Lab Philippines 2021 [Fiction lab Application]. Applications for Fiction Lab, Creative Producers Lab, and Story Editing Lab will be accepted until February 15, 2022 with announcement of selected participants in the FCL PH's social media pages on March 15, 2022. The application period for First Cut Lab will be until March 15, 2022, announcement date of chosen projects will be posted this month. Interested applicants may download the application form here: https://bit.ly/FCLPH2022-ApplicationForm.