Fukuoka Asian Art Museum | call for artists, researchers, curators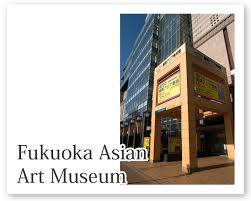 Fukuoka Asian Art Museum (FAAM) announces the open call for "Visiting Artists, Researchers and Curators in Residence - Support Program 2017." This program provides various supports for grant-aided artists from Asia and researchers/curators on Asian art who wish to produce artwork or conduct to research by staying in Fukuoka on their expenses.
The Fukuoka Asian Art Museum (FAAM) Support Program provides an opportunity for the artist from Asia and researcher/curator of Asian art to stay in Fukuoka for a certain period of time and supports their creative activities and researches.
Through the program, FAAM aims to contribute to the development of Asian art and to create a platform for art exchange in Asia. By implementing various art exchange programs such as collaborative art-making and workshops during their stay, FAAM also provides opportunities for the local communities to directly engage in art. We believe such opportunities will result in broadening and deepening the public understanding of Asian art, and thus cultivating the regional culture.
Residency Period and Duration
1) June to July 2017 (30-60 days)
2) September to November 2017 (30-90 days)
3) Mid-January to March 2018 (30-70 days)
Number of the artist and researcher/curator:
1 or 2 artists and/or researcher/curator per available residency slot
Eligibility
1) Applicant must have a degree of experience in their field and demonstrate their potential for future advancement in their own field#
ARTIST
must be based in and holds a nationality of one of the following countries or regions:
Bangladesh
, Bhutan,
Brunei, Cambodia, China, India, Indonesia, Korea, Laos, Malaysia
, Maldives,
Mongolia, Myanmar
, Nepal,
Pakistan, Philippines, Singapore
, Sri Lanka, Taiwan,
Thailand, Vietnam
RESEARCHER/CURATOR
must research modern and contemporary Asian art.
Open to all nationalities
FAAM will provide a studio and/or research space as well as project and presentation support. However, FAAM does NOT cover any expenses for the residency in Fukuoka (e.g. travel, accommodation, food, art/research materials etc.)
For more information, please check the application guidelines as below.
・
Application Guidelines
・
Application Forms
Deadline for applications: 15 April 2017
Please note: supplementary application materials are requested and must arrive at FAAM in Fukuoka, Japan by the deadline