Shortlisted Projects | Creative Encounters and Creative Networks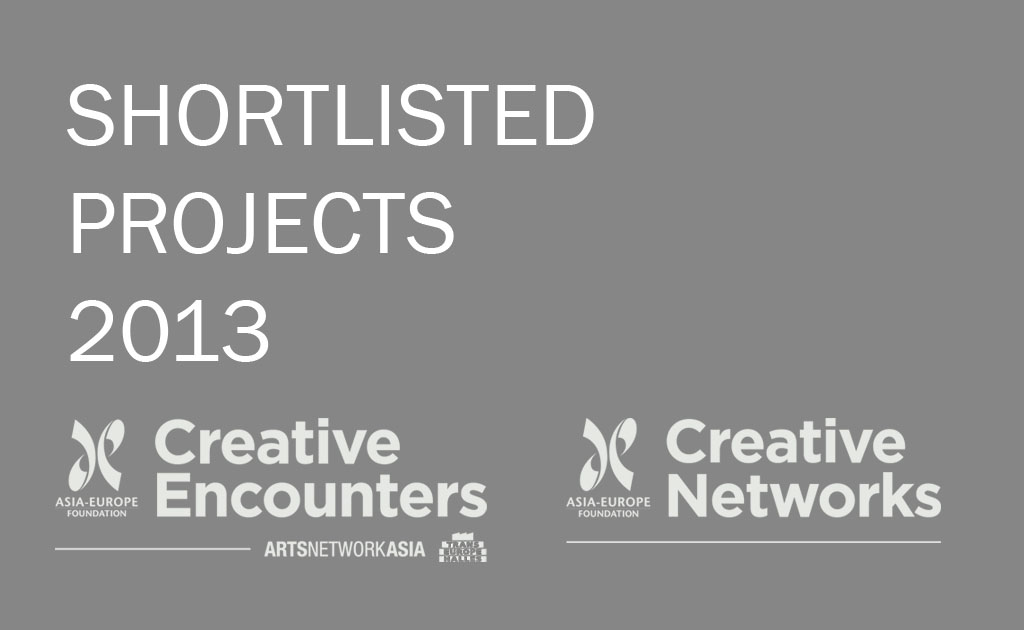 Proposals for ASEF's Creative Networks and the Creative Encounters programme have been shortlisted this month, following a thorough review of the submitted proposals. 
For Creative Networks First Edition, 4 proposals have been shortlisted from 54 submissions. For Creative Encounters Third Edition, 8 creative proposals have been shortlisted from 169 submissions. The selection of shortlisted projects was conducted in partnership with Arts Network Asia and Trans Europe Halles.
The shortlisted applicants have been requested to submit a detailed proposal on or before Friday, 1 November 2013. Successful applicants will be notified by 1 December 2013.
ASEF Creative Networks 1st 

edition (2013-14) - Shorlisted Projects
Sustainable Urban Heritage for Creative Economies
Partners:
INTACH - Indian National Trust for Art and Cultural
Heritage (India)
INTO - International National Trusts Organisation (United Kingdom)
Europa Nostra (The Netherlands)
International Institute for the Inclusive Museum (Denmark)
Yangon Heritage Trust (Myanmar)
Network as Learning Experience
Partners:
ENCATC – European network on arts-cultural management and cultural policy education (Belgium)
ANCER – Asia Pacific Network for Education and Research (Singapore)
The Hong Kong Institute of Education (China)
Asia-Europe Artist Residency Network
Partners:
Res Artis Foundation (The Netherlands)
The Japan Foundation Information Center (Japan)
NAVA - National Association for the Visual Arts (Australia)
The Asia-Pacific Screen Lab
Partners:
Griffin Film School (Australia)
Asia-Pacific Film Academy (Australia)
NETPAC (India)
Creative Encounters Third Edition (2013-14) - Shortlisted Projects
[En]counters 2014 - Is There Love in the Air?
Public art festival investigating the urban landscape; to be held in Mumbai (India)
Partners:
Art Oxygen (India)
C&G Artpartment (China)
Cittadellart-Fondazione Michelangelo Pistoletto (Italy)
Equilibrium
Cross disciplinary artist residencies exploring social empowerment of women; to be held in rural Rajasthan (India)
Partners:
Sandarbh (India)
Mainzer Kunstverein Walpodenstrat 21 e.V (Germany)
Beneshawar Lok Vikas Sansthan (India)
Focus + Indonesia
Interdisciplinary mobile artist residencies responding to local community needs and mutual cultural education; to be held in various venues across Indonesia
Partners:
Fundacja Upside Art (Poland)
Jatiwangi Art Factory (Indonesia)
National Museum in Szczecin (Poland)
EARS on Helsinki 2014
Conference for creative industry professionals with selected showcases and performances; to be held in Helsinki (Finland)
Partners:
EARS Europe-Asia Roundtable Sessions (Finland)
Modern Sky Entertainment (China)
IDFAcademy Asian Route
Training programme for promising young documentary filmmakers, alongside the International Documentary Film Festival 2014; to be held in Amsterdam (The Netherlands)
Partners:
International Documentary Film Festival Amsterdam (The Netherlands)
Bang Singapore (Singapore)
IT Matters! What's the temperature of culture?
Cross-disciplinary artist residencies, workshops and talks exploring the impact of climate change on territories and communities; to be held in Rome (Italy) and Seoul (Korea)
Partners:
ETRA.R.TE (Italy)
Dance Box (Japan)
SID Dance - Seoul Section of International Dance Council-CIDUNESCO (Korea)
CSC- Centro per la scena contemporanea Opera Estate (Italy)
Fondazione Roma Europa-DNA (Italy)
The Common Studio: Artists and Designers Exploring Practices of Collective Organising between Asia and Europe
Workshops, seminars and public events exploring innovative practices of collectivity; to be held in Chiang Mai (Thailand)
Partners:
Department of Multidisciplinary Art, Faculty of Fine Arts, Chiang Mai University (Thailand)
Brave New Alps (Italy)
Ties That Bind - Asia Europe Producers Workshop
Workshop for film producers with potential feature films in development; to be held in Udine (Italy)
Partners:
Fondo Audiovisivo Del Friuli Venezia Giulia (Italy)
Busan International Film Festival (Korea)
EAVE – European Audiovisual Entrepreneurs (Luxembourg)
Far East Film Festival (Italy)
Download Creative Encounters Third Edition Shortlist
Download Creative Networks First Edition Shortlist