Richard Flanagan wins 2014 Man Booker Prize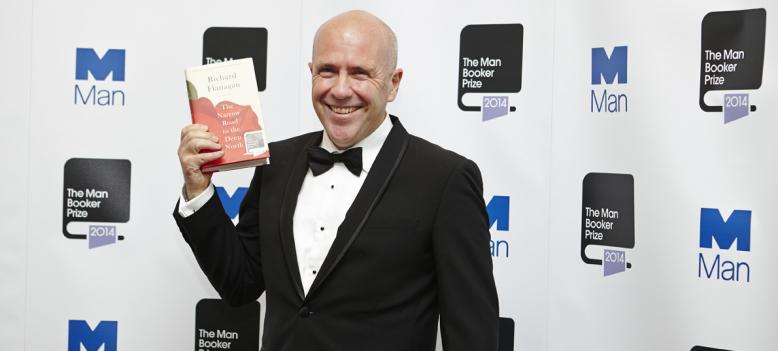 Richard Flanagan has won the 2014 Man Booker Prize for Fiction for The Narrow Road to the Deep North.  The Tasmanian-born author is the third Australian to win the coveted prize which, for the first time in its 46-year history, is now expanded to include entries from writers of all nationalities, writing originally in English and published in the UK.
Flanagan joins an impressive literary canon of former winners including fellow Australians Thomas Kenneally (
Schindler's Ark,
1982) and Peter Carey (
Oscar & Lucinda,
1988 and
The True History of the Kelly Gang
, 2001).
The Narrow Road to the Deep North
is the sixth novel from Richard Flanagan, who is considered by many to be one of Australia's finest novelists. It centres upon the experiences of surgeon Dorrigo Evans in a Japanese POW camp on the now infamous Thailand-Burma railway. The
Financial Times
calls it 'elegantly wrought, measured and without an ounce of melodrama… nothing short of a masterpiece.'
Named after a famous Japanese book by the haiku poet Basho,
The Narrow Road to the Deep North
is described by the 2014 judges as 'a harrowing account of the cost of war to all who are caught up in it'. Questioning the meaning of heroism, the book explores what motivates acts of extreme cruelty and shows that perpetrators may be as much victims as those they abuse. Flanagan's father, who died the day he finished
The Narrow Road to the Deep North
, was a survivor of the Burma Death Railway.
Richard Flanagan was announced as the 2014 winner by AC Grayling, Chair of judges, at an awards dinner at London's Guildhall, which was broadcast live on the BBC News Channel. Flanagan was presented with a trophy from HRH The Duchess of Cornwall and a £50,000 cheque from Emmanuel Roman, Chief Executive of Man Group. The investment management firm has sponsored the prize since 2002.
AC Grayling comments:
"The two great themes from the origin of literature are love and war: this is a magnificent novel of love and war. Written in prose of extraordinary elegance and force, it bridges East and West, past and present, with a story of guilt and heroism."