Korea dispatches international cultural exchange experts around the world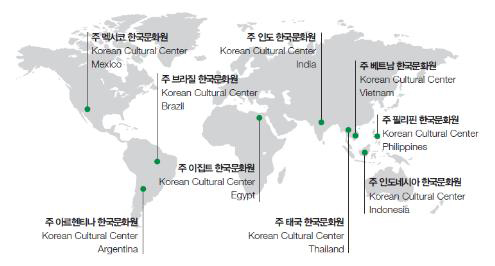 The "
NEXT Project to Dispatch International Cultural Exchange Experts by Region
" is a Korean government sponsored initiative designed to cultivate cultural exchange and develop resources in the emerging markets in Asia, Latin America and the Middle East, excluding the already robust markets in Europe and North America.
An additional aim is to bolster the
Korean Culture Centers' (KCC)
art and culture projects by reinforcing them with trained professionals. The KCC is a government organization, whose main function is to serve as the base from which Korean culture may be promoted, and to strengthen art and culture projects in regions that lack experts in those respective fields. The staff members it sends, may in turn, study the state of affairs in culture and the arts in such countries, and benefit from the opportunity to become regional specialists.
The staff members currently posted in the total of ten countries involved in the project stay in their positions for a period of four to ten months, during which they work as a manager for the Culture Center and research trends in the cultural scene of their countries. They coordinate events, festivals, and other programs affiliated with cultural spaces, and the results of their investigations will be shared externally through the
online platform of the Korea Arts Management Service (KAMS)
. Each of them were selected in a public contest held in July 2013 and fulfill KCC requirements of at least three-year experience of planning performance and visual arts.
Read more
about Korea's NEXT program