European Film Academy honors Almodóvar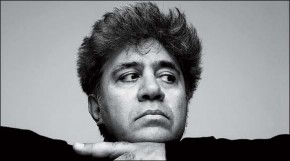 The
European Film Academy
, announced with great pleasure, that it will present 
Pedro Almodóvar
with the honorary award
EUROPEAN ACHIEVEMENT IN WORLD CINEMA
for his outstanding body of work. "I am very thankful for this award. From its creation, the European Film Academy has been very generous with me and my closest collaborators," stated Pedro Almodóvar upon receiving the news, "I share with them the joy of this award".With a background in independent theatre, Super-8-film making and underground magazines, Pedro Almodóvar's early films were the heirs and witnesses of the brand new Spanish democracy. After a year and a half of eventful shooting on 16mm, in 1980 he opened PEPI, LUCI, BOM, a no-budget film made as a co-operative effort with the rest of the crew and the cast, all beginners, except for Carmen Maura. In 1986, he founded the production company El Deseo S.A. with his brother Agustin. Their first project was Law of Desire. Since then, they have produced all the films that Pedro has written and directed, and have also produced other young directors. In 1988, Women on the verge of a Nervous Breakdown, brought him international recognition and the Best Young Film award at the first European Film Awards. Since then, his films have opened all around the world to great acclaim. Pedro Almodóvar has won virtually every award there is and his films have played an important role in shaping the way we see not only Spain but also European cinema itself.
Pedro Almodóvar will be an honorary guest at the 26th European Film Awards Ceremony on 7 December 2013 in Berlin, streamed live on 
www.europeanfilmawards.eu
.
The European Film Awards 2013 are presented by the European Film Academy e.V. and EFA Productions gGmbH with the support of the FFA German Federal Film Board, the German State Lottery Berlin, the German State Minister for Culture and the Media, the MEDIA Programme of the EU, Medienboard Berlin-Brandenburg, Aveda, GLS, Hôtel Concorde Berlin, M·A·C, Mast-Jägermeister SE and ŠKODA AUTO Deutschland GmbH.
(
Via European Film Academy Press Release
)