British Director leads Berlinale 2012 International Jury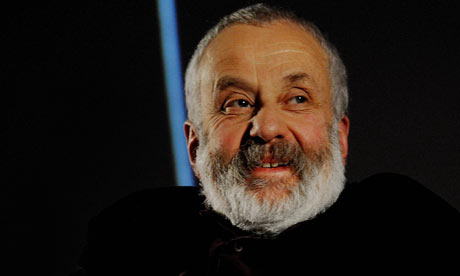 British film director Mike Leigh heads the International Jury of 62nd Berlin International Film Festival main awards -the Golden Bear and the Silver Bears.  Other impressive names in the jury are Anton Corbijn, Asghar Farhadi, Charlotte Gainsbourg, Jake Gyllenhaal, François Ozon, Boualem Sansal and Barbara Sukowa.


Mike Leigh
(Jury President) has made a name for himself as one of the most outstanding filmmakers of auteur cinema and protagonists of New British Cinema. Leigh portrays British society in a bluntly realistic but humorous manner. His films have received countless international awards and Oscar nominations.
Trained as an actor, dramatist and screenwriter, he has directed more than 20 films, including
Bleak Moments
(1972, Golden Leopard in Locarno),
Naked
(1993, Award for Best Director in Cannes),
Secrets and Lies
(1996, Palme d'Or in Cannes) and
Vera Drake
(2004, Golden Lion in Venice).  Nominated for several Oscars, director Mike Leigh has been invited several times to different sections of the Berlin International Film Festival:
Meantime
screened in the
Forum
in 1984; the short film
The Short and Curlies
, in the
Panoram
a in 1988; as did
Life Is Sweet
in 1991. His latest contribution was to the
Competition
in 2008: his social comedy
Happy-Go-Lucky
featured Sally Hawkins, who won the Silver Bear for Best Actress.
Dutch photographer, designer and filmmaker
Anton Corbijn
won international fame with his photos of musicians: the Rolling Stones, U2, Frank Sinatra, Luciano Pavarotti, Tom Waits and others. For bands such as U2 or Depeche Mode, he became like a fifth member and shot and/or designed eight album covers for each of them. Since 1993 he has also designed the stage sets for Depeche Mode`s tours. He started directing music videos in the early 1980s, later also for artists such as Herbert Grönemeyer, Johnny Cash, Coldplay and Nirvana. He made his directorial debut with the film
Control
about lead singer Ian Curtis of the British post-punk band Joy Division. The film opened Cannes' Quinzaine section in 2007. It was followed in 2010 by his film
The American
, a thriller with George Clooney in the lead. Most recently Corbijn has collaborated with Berend Strik on the charitable project "Mandela Landscape". As a major source of inspiration for the popular culture of his generation, Corbijn was awarded the most important cultural award of the Netherlands in November 2011: the Prins Bernhard Cultuurfonds Prijs. His next cinema project will be a screen adaptation of John LeCarré's
A Most Wanted Man
which will be shot in Germany.
Iranian director and screenwriter
Asghar Farhadi
shot his first 8-mm and 16-mm films as a teenager, and had already made five short films by the time he went to Tehran University and got his Bachelor and Master degree in theatre directing. He also worked for radio and television. In 2003, he won the Special Jury Prize for his feature film debut
Raghs dar ghobar
(
Dancing in the Dust
) at the Moscow International Film Festival. His second feature film
Shahr-e ziba
(
A Beautiful City
, 2004) was awarded the Grand Prix as best film in Warsaw. In 2009, he won the Silver Bear for Best Director with his Berlinale
Competition
film
Darbareh-ye Elly
(
About Elly
).
About Elly
also won at the Tribeca Film Festival and went on to receive another ten awards. His latest work,
Jodaeiye Nader az Simin
(
Nader and Simin. A Separation
) took home the Golden Bear and two Silver Bears for the performances of the ensemble at the Berlin International Film Festival in 2011. It was an international success, and after winning the Berlinale it won awards at 22 international festivals. Iran has selected the film as its official entry for the Academy Awards. In summer 2011, Asghar Farhadi was invited to participate in Berlin's Artist-in-Residence programme of the German Academic Exchange Service (DAAD).
French-British actress
Charlotte Gainsbourg
, daughter of French artist Serge Gainsbourg and British actress and singer Jane Birkin, made her motion picture debut as a teenager in
Parole et Musique
(
Love Songs
, 1985; directed by Élie Chouraqui). She then worked with many different filmmakers, such as Agnès Varda, Paolo and Vittorio Taviani, Jacques Doillon, Eric Rochant, Bertrand Blier and Andrew Birkin. In 1986 she won a César as Most Promising Young Actress for
L'éffrontée
(
Charlotte and Lulu
, 1985; directed by Claude Miller). In 1998, she gave a breakthrough performance in
La petite voleuse
(
Little Thief
, directed by Claude Miller). In 2001, she starred in Yvan Attal's
Ma femme est une actrice
(
My Wife Is an Actress
) and played the lead in
Félix et Lola
(
Felix and Lola
, directed by Patrice Leconte), which also screened in the Berlinale
Competition
. She has made many other films for the screen, including
21 Grams
(2003, directed by Alejandro Gonzalez Inarittu),
Prête-moi ta main
(
I Do
, 2006, directed by Eric Lartigau), Michel Gondry's
La science des rêves
(
The Science of Sleep
, Berlinale Competition 2006),
Golden Door
(2007, directed by Emmanuele Crialese, Golden Lion in Venice) and Todd Haynes'
I'm Not There
(2007). In 2009, she played in Patrice Chereau's
Persécution
(2009) and won the Best Actress award in Cannes for her role in Lars von Trier's
Antichrist
. Most recently she starred in
L'Arbre
(
The Tree
, 2010, directed by Julie Bertucelli) and in
Melancholia
(directed by Lars von Trier), which won the 2011 European Film Prize for Best Film. Charlotte Gainsbourg also performs as a vocal artist and has just released her fourth album "Stage Whisper".
Academy Award nominee
Jake Gyllenhaal
won BAFTA and National Board of Review awards for his poignant performance as Jack Twist in Ang Lee's timeless classic
Brokeback Mountain
(2005, Golden Lion in Venice).
He was last seen starring in Duncan Jones' critically acclaimed sci-fi thriller
Source Code
(2011, R: Duncan Jones) and Ed Zwick's
Love And Other Drugs
(2010), for which he received a Golden Globe nomination for "Best Performance by an Actor in a Motion Picture – Comedy or Musical." Gyllenhaal recently wrapped production on David Ayer's
End of Watch
, a gritty drama shot on the streets of South Central Los Angeles. The film is expected for release in 2012. Working with some of Hollywood's greatest filmmakers, Gyllenhaal has also starred in Richard Kelly's cult hit
Donnie Darko
(2001), Jim Sheridan's
Brothers
(2009), David Fincher's
Zodiac
(2007), Sam Mendes'
Jarhead
(2005), John Madden's
Proof
(2005), Miguel Arteta's
The Good Girl
(2002), Brad Silberling's
Moonlight Mile
(2002), Nicole Holofcener's
Lovely And Amazing
(2001), and Joe Johnston's
October Sky
(1999). Gyllenhaal made his stage debut starring in Kenneth Lonergan's revival of "This is Our Youth" on London's West End. For his performance he won an Evening Standard Theatre Award for "Outstanding Newcomer".
After making several highly regarded short films (
Summer dress
, 1996;
See the Sea
, 1997), French director and screenwriter
François Ozon's
first feature film was
Sitcom
(1998). He celebrated his international breakthrough with the musical comedy
8 Femmes
(
8 Women
) in 2002. A star-studded ensemble with Catherine Deneuve, Isabelle Huppert, Ludivine Sagnier, Emmanuelle Béart, Firmine Richard, Danielle Darieux, Fanny Ardant and Virginie Ledoyen who sing and dance throughout the film, won a Silver Bear for their performances. Ozon had already participated in the Berlinale
Competition
in 2000 with
Gouttes d'èau sur pierres brulantes
(
Water Drops on Burning Rocks
) which took home the Festival's queer prize, the Teddy Award for Best Feature. Further great hits by Ozon followed, including
Sous le sable
(
Under the Sand
, 2000) and
Swimming Pool
(2003) with Charlotte Rampling, as well as his drama about death
Le temps qui reste
(
Time to Leave
), which premiered at Cannes in 2005. He presented Angel in the Berlinale
Competition
in 2007 and
Ricky
in 2009. In 2010,
Potiche
(
Trophy Wife
), his satirical and rather biting comedy about emancipation, screened at the festival in Venice; the film went on to top the French movie charts.
Algerian writer
Boualem Sansal
received his doctorate in economics and worked for the Ministry of Industry, as well as authored a number of technical books, before publishing his prize-winning debut novel "Le serment des barbares" in Paris in 1999. Four novels have followed, all of which have been translated into German. After publishing "Journal intime et politique, Algérie 40 ans après", a critical political diary about the situation in Algeria 40 years after independence, he was forced to quit his job in the ministry. Ever since he has worked exclusively as a writer and focused increasingly on historical subjects. His most recent publications include the 2008 novel "Le village de l'allemand ou le journal des frères Schiller". This work is the first of his novels to be translated into English; it was published in the US as "The German Mujahid" and in the UK as "An Unfinished Business". In 2011, Sansal was awarded the Peace Prize of the German Publishers and Booksellers Association at the Frankfurt Book Fair.


Barbara Sukowa is a prize-winning German film and theatre actress, as well as a singer. She was first discovered for the screen by Rainer Werner Fassbinder who after casting her in Berlin Alexanderplatz (1980) gave her the title role in Lola (1981), one of his most successful films. Barbara Sukowa became known internationally for starring in Die bleierne Zeit (Marianne and Juliane, 1981; Award for Best Actress in Venice) and Rosa Luxemburg (1986, Award for Best Actress in Cannes), both by Margarethe von Trotta. She made The Sicilian (1987) with Michael Cimino and starred in Lars von Trier's dark thriller Europa (1991). Her most recent German films include Hierankl (2003, directed by Hans Steinbichler); the screen adaptation of the novel, Die Entdeckung der Currywurst (The Invention of the Curried Sausage, 2008; directed by Ulla Wagner, Award for Best Actress in Montreal); and Vision – Aus dem Leben der Hildegard von Bingen (Vision, 2009; directed by Margarethe von Trotta). Sukowa, who lives in New York, started her singing career in the late 1980s. She has won an Echo and been nominated for a Grammy.

(profiles from the Berlinale site)