Brunei | call for sustainable development of culture and heritage industry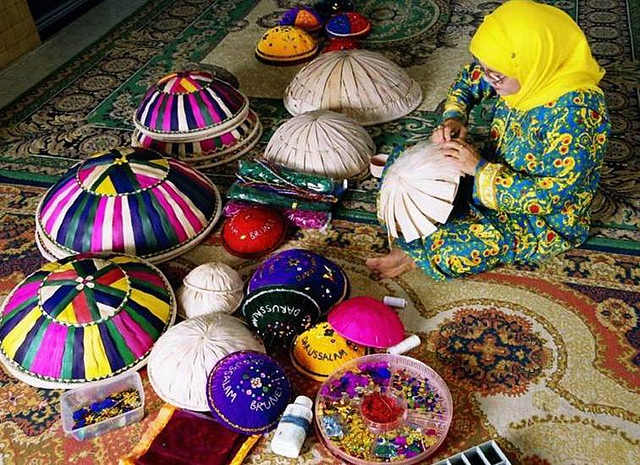 The importance of passing down the richness of Brunei's traditional arts and crafts to future generations was highlighted by Dato Paduka Hj Mohd Hamid bin Hj Mohd Jaafar, Permanent Secretary at the Ministry of Culture, Youth and Sports, at the contract signing ceremony between the ministry and the Prince's School of Traditional Arts, UK.
Brunei Darussalam has always been known as one of the countries in the Malay world which are richly endowed with cultural heritage and traditions. These cultural heritage and traditions forms an important part of our identity, and to an extent, the economy of our modern community.
Traditional art and craft products differ greatly from mass produced goods in that they bring richness and charm to the consumer's lifestyle. It is imperative, therefore that these traditions be continued and passed on to our future generations as one of the cultural treasures of Brunei Darussalam.
The contract enables them to conduct a survey of Brunei Darussalam's 'Key Cultural Resources' and to provide recommendations for the development of Brunei Darussalam's creative industries in the `Traditional Arts and Heritage' sector.
In Brunei Darussalam, he said, "the Ministry of Culture, Youth and Sports recognises the great importance of preserving our culture and heritage for the next generation. Through our cultural policy and several other initiatives such as the establishment of cultural and heritage institutions as well as legislations and convention, it is indeed fortunate that we are able to still witness and enjoy some of the uniqueness inherited from the past".
In reference to traditional arts and crafts, the permanent secretary said, "Brunei Darussalam is still renowned for its boat making, silver smithing, bronze tooling, cloth weaving as well as mat and basket weaving. Brunei Darussalam also possesses natural capital by virtue of its rich tropical rainforests, as well as relics and other various artistic heritage which include Malay weaponry, wood carvings, traditional games, traditional musical instruments, Silat (the traditional art of self-defence) and decorative items for women.
"The collections of traditional arts and crafts, as well as historical relics, ornaments and natural capital hold many untapped potential." Dato Hj Hamid added, "I believe that through innovation, creativity and entrepreneurship, they can be used as a basis and inspiration to produce creative products or services with real prospects for sustainable growth."
Read full article on Brudirect.com
Image: Dulang making - from whl.travel flickr stream