Vietnam:culture village launched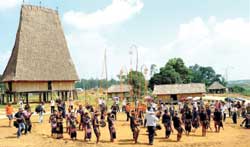 [caption id="attachment_6331" align="alignright" width="250" caption="Culture-tourism village, Vietnam"]
[/caption]
Prime Minister Nguyen Tan Dung has urged Hanoi and other localities nationwide to build the Culture-Tourism Village of Vietnamese Ethnic Groups in the Son Tay District of Ha Noi. This, he has said will help to develop villages and localities into attractive destinations for foreign and domestic tourists.
Addressing the opening ceremony of the village in Ha Noi on the 19
th
of September 2010, Dung said that the village would help enrich the nation's culture. "Culture is the society's spiritual foundation," noting that the Party and State always pay attention to preserving and promoting cultural identity. "Together with the State's investment, all economic sectors will be encouraged to invest in cultural activities to help boost national development," said Dung.
Party General Secretary Nong Duc Manh, Permanent Deputy Prime Minister Nguyen Sinh Hung,Chairman of the Viet Nam Fatherland Front Central Committee Huynh Dam, Minister of Culture, Sports and Tourism Hoang Tuan Anh, Chairman of the Committee for Ethnic Minority Affairs Giang Seo Phu, village patriarchs and cultural researchers from across the country attended the opening ceremony.
The village, located on a 1,544-ha area in Dong Mo, is composed of traditional Vietnamese architecture that highlights the unique characteristics of the country's culture. The Vietnamese Ethnic Culture-Tourism Village project, approved by the Prime Minister in 2008, aims to honour and preserve the cultural value of Viet Nam's 54 ethnic groups and promote Viet Nam's image to the world. It is also expected to become the nation's cultural, sports and tourism centre to meet the public's demands for recreation and display aspects of the country's cultural heritage.
On the threshold of Ha Noi's millennial anniversary, the opening of the village is a politically, culturally and socially significant event, representing a commitment to preserving Viet Nam's rich history. On the day of the opening, there were a variety of activities, including a ceremony to honour the craft villages of the 54 ethnic groups, an exhibition showcasing products of these groups, and a multitude of cultural exchanges.