from - to
23 Oct 2019 - 26 Oct 2019
Asia-Pacific Creative Cities Conference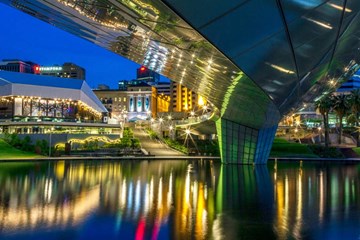 Organised by the Adelaide Festival Centre in Australia on 23-26 October 2019 - the Asia-Pacific Creative Cities (APCC) Conference.
Designated a UNESCO Creative City in 2015, Adelaide is committed to sharing best practices, developing partnerships and prioritizing international collaboration with the members of this important alliance. It especially recognises the significance of the cultural and creative industries (CCI) of the Asia-Pacific region.
The Asia-Pacific Creative Cities (APCC) Conference, organised by Adelaide Festival Centre, operator of the UNESCO City of Music Office in Adelaide, will be the first ever meeting of the UNESCO Creative Cities of the Asia-Pacific region. It aims to draw significant attention to the region's leadership position in the CCI sector and the global economy. This conference will bring together top-level delegates and world-class speakers representing Australia, the Asia-Pacific region, and specifically the UNESCO Creative Cities Network (UCCN) to discuss the ways forward, strengthen exchange of best practices, deepen collaboration and highlight the cultural leadership of the region across the creative cities.
The conference will present a unique opportunity to engage with the Asia-Pacific Creative Cities on strategic conversations around the development of the CCI market, trade and investment in the region; amplification of bilateral partnerships and opportunities; support for entrepreneurship and the movement of ideas, creators and innovation; promotion of the CCI as a source of sustainable solutions and resiliency in cities; and long-term tourism policies and marketing strategies for creative cities. Moreover, in honour of the International Year of Indigenous Language, a United Nations observance in 2019, the conference will address the ways in which indigenous arts, language and entrepreneurship in the Asia-Pacific region may be promoted and supported.
The APCC Conference will run alongside OzAsia Festival. It is also a platform to showcase the innovation and creativity of the Asia-Pacific region. The participation and involvement of creative talent and the arts in such events is both fundamental and necessary to understanding the scope of the energy and opportunity that must be connected.
See website for programme information and registration.