from - to
01 Nov 2018 - 03 Nov 2018
Adelaide | Borak Arts Series 2018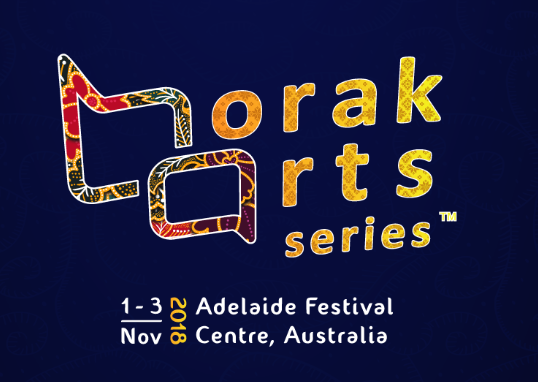 Tickets are available for the first touring conference edition of the Borak Arts Series in Adelaide, from 1-3 November 2018. The 3-day event features 2 keynote speakers, 4 performances, 15 speakers and more. Borak Arts Series is Southeast Asia's Leading Performing Arts Regional Arts Market and Conference.
Since 2013, Borak Arts Series has welcomed over 1,100 delegates from 26 countries, 29 international festival directors and presenters as well 42 international funding stakeholders.

Borak Arts Series has become a platform that creates opportunities and builds capacity through the congregation of South East Asian and international cultural leaders, artists, presenters, producers, intermediaries, funders, academics and students.

The conference aims to promote accessibility of information, tools and ideas on how to bring works or discussions forward, encourage cultural mobility and create alliances that would assist in building a robust performing arts ecosystem via the various panel discussions, networking sessions, one on one meetings with international programmers and workshop sessions amongst others.

PITCHPAD platform has seen more than 40 artist pitch their works to more then 170 performing arts professionals, including presenters, festival directors and venue programmers and as a result, have secure additional project support, representation, performance engagements, international exposure, premiere locations and touring opportunities to over 25 countries such as Japan, Australia, America, South Korea, Denmark, Belgium and more.

In its 6th instalment, Borak Arts Series is now set to be a touring conference, with 2018 seeing its first stop in the beautiful city of Adelaide, South Australia. In partnership with OzAsia Festival, Australia Department of Foreign Trade and Affairs, Australia Council for the Arts and Cultural Economy Development Agency Malaysia, we look forward to seeing you this November 1 – 3 at the Adelaide Festival Centre.
The theme is Amplifying Exchange. The programme features a preview of one of Indonesian's powerful voice in contemporary dance, exclusive to Borak Arts Series 2018 attendees only!
Borak Arts Series is a trademark of My Performing Arts Agency (MyPAA), Malaysia's leading arts intermediary.