from - to
14 Jan 2016 - 16 Jan 2016
Phnom Penh | 3rd ANCER conference - call for papers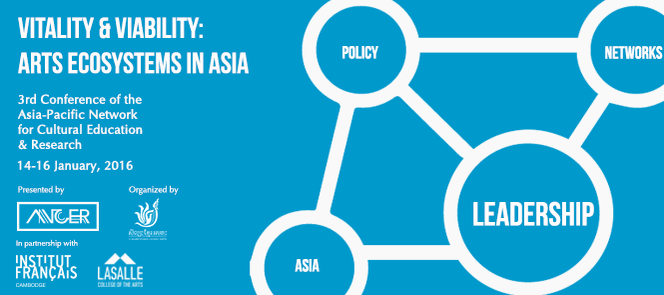 After the successful conference: New Voices, Current Perspectives: Arts Management, Policy and Development in Asia, ANCER will present its third conference:
Vitality and Viability: Arts Ecosystem in Asia
, on 14 and 16 January 2016 in Phnom Penh, Cambodia. The conference is for Arts Managers, Cultural Leaders, Cultural Researchers and Policymakers.
CALL FOR PAPERS
3rd ANCER Conference, Vitality and Viability: Arts Ecosystems in Asia is acepting applications from Young Researchers to present their work at the conference until

1 November 2015.
There are
limited scholarships available to support participants from within Cambodia
. To apply, please submit a one page letter with a brief introduction on yourself and explanation on why you would like to attend and what you expect to learn from the conference to ancer@cambodianlivingarts.org by
30 November, 2015.
For further information on the conference program, key dates and activities, conference fees, payment methods and registration form, please download the information pack from the website or email us at ancer@cambodianlivingarts.org. The 3rd ANCER conference is organized by Cambodian Living Arts in partnership with Institut français du Cambodge and LASALLE College of the Arts. The conference's primary language is English.
About ANCER
ANCER is Asia Pacific's first Network for Cultural Education and Research. An initiative of LASALLE College of the Arts, the network was formed in 2012 as a way to stimulate international inquiry and research in this sector in order to contribute to a better understanding of the unique factors contributing to the study of arts management and cultural policy in the Asia Pacific region. The production of research and new knowledge through this network will, in the long term, contribute to the reservoir of arts knowledge in the Asia Pacific region, without losing the global perspective. We are delighted to organize the 3rd ANCER conference, particularly with our 2016 focus on Creative Connections, and to share our knowledge and experience with a global community. With a strong focus on leadership and entrepreneurship throughout our work, we especially want to engage arts managers and cultural innovators in the ANCER dialogue, and to bring practical knowledge and experience to research and knowledge production.