from - to
31 Mar 2016 - 03 Apr 2016
Art Paris Art Fair | Guest of Honour South Korea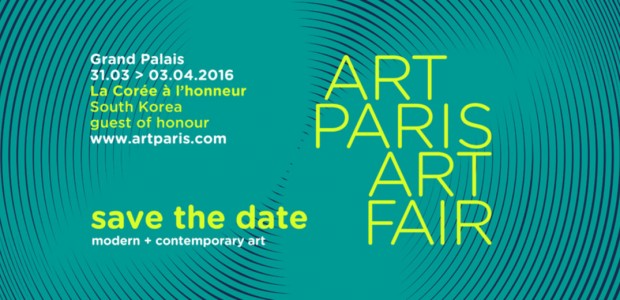 Korea is Guest of Honour for the Art Paris Art Fair, 31 March - 3 April 2016. This invitation under the leadership of guest curator Sang-A Chun is the last of a trilogy of editions dedicated to exploring the art scenes of the East. It reveals the striking richness of the art scene from "the land of the morning calm," with work dating back to the 1960s, right up to the present day's boom in contemporary creativity.
This year's focus will provide an impressive programme:
- A platform of 8 galleries from Seoul (313 Art project, Gana Art, Paik Hae Young, Park Ryu Sook, Gallery Simon et UM Gallery), Daegu (Gallery Shilla) and Paju (Gallery Soso ) - Close to 80 artists represented by both Korean and Western galleries. It includes the historic masters of abstraction such as Ungno Lee (Galerie Thessa Herold) or Myeong-ro Youn (Gana Art) and icons like Lee Ufan (Galerie Rabouan Moussion) and Iee Bae 5galerie RX), as well as young rising stars such as Kiwon Park (313 Art Project), Kim Joon (Park Ryu Sook Gallery), or Osang Gwon (Galerie Paris Beijing)... - Two installations : Kiwon Park is showing a monumental installation at the entrance of the Grand Palais entitled "Flash Wall" (2014) while Bae Hyung Kyung will present "Allusion" (2013-2015), a group of 7 life-sized statues in cast bronze (Paddock, North promenade) - A programme of performances called "Rituals" with artists Yeesookyung and Young In Houng - A talk entitled "Contemporary Koreanart: exploring the past and shed light on the present," moderated by Art Paris Art Fair Korea Guest of Honour curator Sang-A Chun at the Korean Cultural Centre, 2 avenue d'Iéna, 75116 Paris on Friday 1st April, 2016 from 6pm to 7:30pm. As part of the celebrations of France-Korea year, exhibitions and installations of Korean art will be visible throughout the capital during Art Paris Art Fair. IBU Gallery, in collaboration with RX and Hakgojae galleries, present "Standing Man" by CHUNG Hyun, a series of monumental sculptures in the garden of the Palais Royal. The Cernuschi Museum is organising an exhibition of contemporary Korean art from the 1980s onwards along with a number of new rising talents. South Korea guest of honour at Art Paris Art Fair 2016 is part of the official programme of France-Korea Year 2015-2016.
www.anneefrancecoree.com