10 Oct 2019 - 11 Oct 2019
5th Philippine Maritime Heritage Forum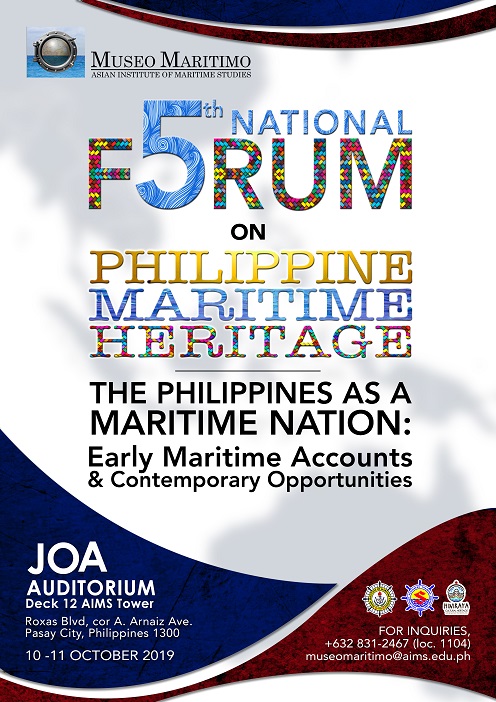 In celebration of the Maritime Heritage Month and the 7
th
anniversary of
Museo Maritimo
, an ASEMUS member, the Asian Institute of Maritime Studies (AIMS) is organising its 5
th
Philippine Maritime Heritage Forum entitled, "
The Philippines as a Maritime Nation: Early Maritime Accounts and Contemporary Opportunities
."
As an archipelagic nation located in the intersection of major trade routes and strategic bodies of water, the history of the Philippines and the Filipino people was shaped and defined by its maritime geography and features. In the past years, Museo Maritimo has taken initiatives in organising maritime heritage forums as a way to build up the overall knowledge and facilitate continuous dialogue on Philippine maritime history. This coming forum intends to contextualise the Philippine maritime past as an organising principle for the realisation of the Philippines as maritime nation. In doing so, the organisers have invited speakers from the different domain of the Philippine maritime industry.
Speakers shall be given 45 minutes of presentation time, followed by scheduled open forum session. This will be held on
10 – 11 October 2019
at the JOA Auditorium, Deck 12, AIMS Tower, Roxas Boulevard corner A. Arnaiz Ave Pasay City, Metro Manila. The main objective of the forum is
to examine the maritime opportunities of the Philippines in relation to its maritime history and heritage. It will involve discussions and studies which can help define the Philippines as a maritime nation by using its maritime past as a backdrop.
The objectives are:
To gather research enthusiasts, academic leaders, students and other professionals across the country to actively engage in the mission of shaping, creating and recreating knowledge through the forging of stronger connections/collaborations and partnerships in promoting our early Philippine history;
To raise the level of awareness among the participants and general public about the Philippine Maritime heritage and opportunities;
To stimulate exchange of ideas among the participants of different cultures and orientations; and lastly,
To foster greater bonds among the delegates for possible linkages, partnerships and collaborations which may lead to bigger possibilities for further advancement.
Registration and further information
Registration fees are PHP 2500 for professionals and PHP 1750 for teachers and students, with an early bird rate of PHP 2200 for professionals and PHP 1500 for teachers and students. The fee includes registration, meals, snacks, a seminar kit, certificate of participation and museum tours. For additional information about the 5th Philippine Maritime Heritage Forum, you can contact organisers at museomaritimo (at) aims [dot] edu [dot] ph, or through 831-2467 (Loc. 1103/1104).