10 May 2019 - 11 May 2019
International Symposium: "Discovering Pre-Hispanic Philippines from an Archaeological Perspective"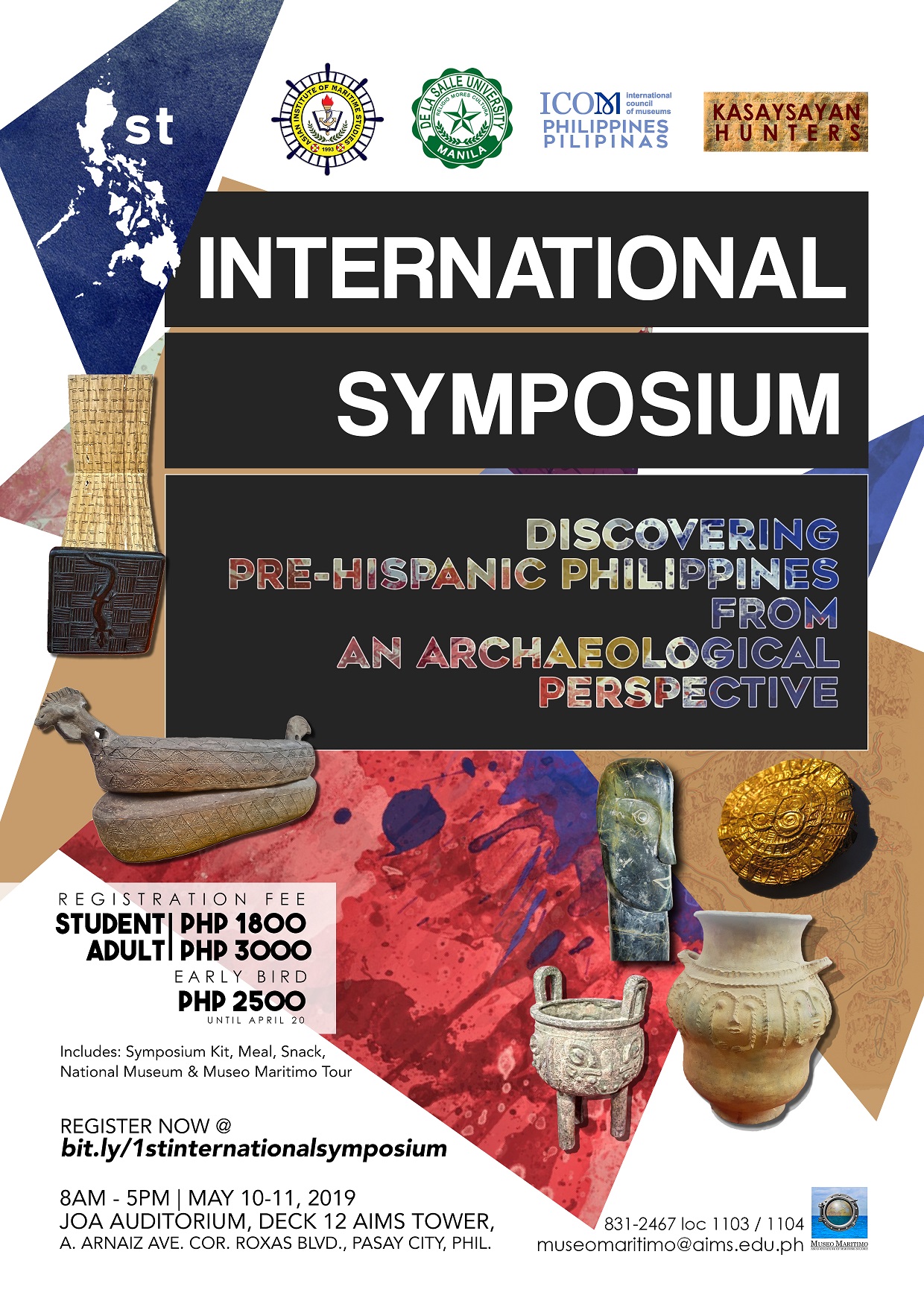 In celebration of the International Museum Day 2019, the
Asian Institute of Maritime Studies - Museo Maritimo
, an ASEMUS member, and
De La Salle University-Manila
, in cooperation with International Council of Museums (ICOM) Philippines, are pleased to invite everyone to attend the forthcoming 1st International Symposium on Pre-Hispanic Philippine Archaeological Findings entitled "Discovering Pre-Hispanic Philippines from an Archaeological Perspective." The event will be held on 10 – 11 May 2019, at the JOA Auditorium, Deck 12, AIMS Tower, Roxas Boulevard cor A. Arnaiz Ave, Pasay City, the Philippines. This symposium is a two-day event highlighting
the recent discoveries on pre-Hispanic Philippines and its meaning and significance to world history
.  Recognising the role of archaeology in reconstructing the past, organisers have invited local and international experts on archaeology and allied fields.  Speakers shall be given 25 minutes of presentation time, followed by scheduled open forum session. The symposium will be held on the
first day
while museum tours will be on the
following day
, featuring the Museo Maritimo and the National Museum. Please follow the links for programme details. Registration fee is Php 2,500.00 for early birds until April 20. On site/late registration is Php 3,000.00.  Student rate is Php 1,800.00.  Fees are inclusive of registration, meal, snacks, seminar kit, certificate of participation and museum tours. You can now register at
bit.ly/1stinternationalsymposium
. If you have other questions and inquiries you can message the museum at
Museomaritimo@aims.edu.ph
or contact through 831-2467 (Loc. 1103/1104).