National Museum of the Philippines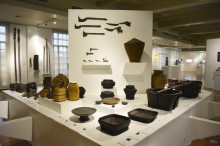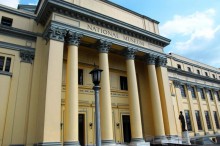 The National Museum of the Philippines, Manila, is envisioned as the premier institution and repository of the best of the natural and cultural heritage of the Philippines.
The National Museum complex in Manila
includes the National Art Gallery (Old Legislative Building), the Museum of the Filipino People (Old Finance Building) and the future National Museum of Natural History (Old Tourism Building)
. These were built in the early 20th century and now function as museums that house the National Fine Arts collection and the National Archaeological and Ethnographic collections. The National Museum also
manages the National Planetarium and over ten archeological site and branch museums
found across the country. The National Museum of the Philippines has three main goals covering the diverse fields of knowledge through various educational, scientific and cultural activities:
As an educational institution, the National Museum disseminates scientific and technical knowledge in a more understandable and practical forms through lectures, exhibitions, interviews and publications for students and the general public.
As a scientific institution, the National Museum conducts basic research programs combining integrated laboratory and field work in anthropology, archaeology, botany, geology and zoology. It maintains reference collections on these disciplines and promotes scientific development in the Philippines.
As a cultural centre, the National Museum takes a lead in the study and preservation of the nation's rich artistic, historical and cultural heritage in the reconstruction and rebuilding of the nation's past and veneration of the great pioneers who helped in building the nation.
Permanent collections:
arts, archaeology, ethnology, natural history, paintings and sculpture.