Leon and Galicano Apacible Museum, Philippines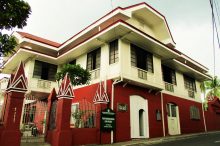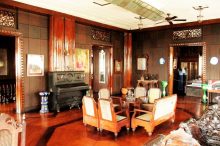 The Leon and Galicano Apacible Museum is an 18th century abode which was renovated in the 1930's, adopting an art deco design. It was later turned into a museum in the early 1970s and donated to the government in 1976. The first museum and the only art deco house in Taal, Batangas, it
showcases the life and works of the two brothers—Leon and Galicano Apacible—and the role they played during the struggle for Philippine independence
in the last quarter of the 19th century.
Leon Apacible
was a lawyer who joined the revolution as a right hand of Gen. Miguel Malvar. He led the revolutionaries as they took the town of Batangas back from Spain. When the Philippines became an independent country, he was sent to Bulacan as a representative of Lepanto (now Bontoc, Mt. Province where he was exiled for 5 years) in the Malolos Congress and became one of the signatories of the first Constitution of the Philippines.
Galicano Apacible
, on the other hand, was a physician. He, with Jose Rizal, Marcelo H. del Pilar Graciano Lopez Jaena and the others pushed for reforms for the country in Spain. He sailed for Barcelona to continue his study there in medicine. He was one of the founders of La Solidaridad—a Filipino publication in Spain—and became its first president. When the Philippines became a republic, he was sent to different countries abroad as a diplomat. Thus, the Museum is known as Museo nina Leon at Galicano Apacible (Leon and Galicano Apacible Museum).
Permanent collections:
Aside from the story of the two brothers,
the Museum also houses relics, a great number of antique furniture, countless dinnerware
that dated as far back as 17th-19th century China, France and Italy, family photos and paintings, vintage mirrors, antique chandeliers, figurines and jewelries owned by the Apacible family.
View all Asia-Europe Museum Network (ASEMUS) members in the Philippines