Launch of United Nations Creative Economy Report 2013, Special Edition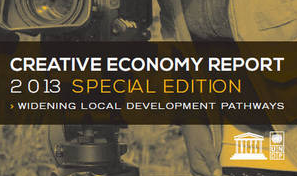 'Creative industries boost economies and development' is the message of the newly published
United Nations Creative Economy Report 2013, Special Edition,
a co-publication from UNESCO and the United Nations Development Programme (UNDP). The special edition of the Report focuses on creative economy at the local level in developing countries.
The Special Edition of the United Nations Creative Economy Report, "Widening local development pathways" is co-published by UNESCO and the United Nations Development Programme (UNDP) through the UN Office for South-South Cooperation. The report has been launched as a major contribution to shaping a new and bold sustainable development agenda to follow 2015 that recognizes the power of culture as an enabler and a driver.
The Report is organized in two volumes: a policy report and a web-documentary that brings to life cases and trends, and opportunities and challenges of creative economy on the ground.
The Report confirms the creative economy as one of the most rapidly growing sectors of the world economy and a highly transformative one in terms of income generation, job creation and export earnings.   But this is not all there is to it.  For unlocking the potential of the creative economy also means promoting the overall creativity of societies, affirming the distinctive identity of the places where it flourishes and clusters, improving the quality of life there, enhancing local image and prestige and strengthening the resources for the imagining of diverse new futures.
The evidence provided demonstrates how the cultural and creative industries are at the core of local creative economies in the global South and how they forge "new development pathways that encourage creativity and innovation in the pursuit of inclusive, equitable and sustainable growth and development" that the UN System Task Team on the Post-2015 UN Development Agenda exhorts the international community to take. The Report puts forward ten key recommendations.
The results of the Report will inform international debates on the post-2015 UN development agenda and the role of culture in sustainable development. It speaks to decision-makers, demonstrating some of the key factors that make creative economy initiatives successful on the ground.
The Report was launched at UNESCO's Headquarters in Paris on 14 November 2013.
For more background information, read the full UNESCO press release