Institute of Contemporary Arts Singapore, LASALLE College of the Arts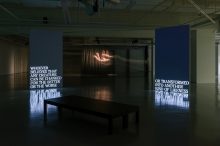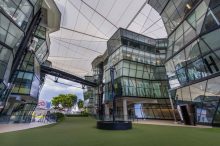 The
Institute of Contemporary Arts (ICA) Singapore
is the curatorial division of LASALLE College of the Arts. Situated at LASALLE's dynamic city campus, the ICA Singapore's five galleries present a
programme of curated international exhibitions alongside exhibitions
organised with students, academic staff and alumni. The Institute provides curatorial expertise and resources in the areas of exhibition development, display and mediation, publishing and education, and manages the
LASALLE College of the Arts Collection of around 1000 items
. Through experimental art projects and publications, the institute fosters public appreciation, debate and critical engagement with contemporary art. Projects are realised in close collaboration with artists. They reflect
Southeast Asia's cultural diversity, and connect with new directions in international art
. Founded as the Dr Earl Lu Gallery in 1986, the ICA Singapore is committed to exchange between artists and LASALLE students. Throughout its history, the ICA Singapore has presented
landmark exhibitions
. These include 'Text & subtext' (2000), one of the first exhibitions to analyse works by contemporary Asian women artists; 'Site + sight: Translating cultures' (2002); and major solo exhibitions by Roberto Chabet (2011), Tang Da Wu (2013), Zai Kuning (2014), Marco Fusinato (2015), Ana Prvački (2015), Jack Tan (2016) and Jason Lim (2018). In recent years, the ICA Singapore has partnered with Palais de Tokyo (2015), Museum of Contemporary Art Lyon (2015) and the Singapore Biennale (2013 and 2016) on international curatorial projects with artists from Europe and Southeast Asia.
Permanent collections:
The diverse LASALLE Collection reflects the beliefs and interests of the College's founders and earliest advocates. Today, it represents the dynamics of exchange and collaboration that have characterised LASALLE since its establishment. It includes works of art by
artists from outside Asia
who have been closely associated with the College, either as teachers or students, administrators or visiting artists. The collection also intersects with the gallery's programme, especially during the directorship of Binghui Huangfu (1996–2003), when works of art were acquired from exhibitions of Asian contemporary art. Today,
the strength of the collection is Southeast Asian painting
, including Chinese ink painting. Highlights include works by Cheong Soo Pieng, Chen Wen Hsi, Chua Ek Kay, Goh Beng Kwan, Lim Cheng Hoe, Seah Kim Joo, Tay Bak Koi, Chieu Shuey Fook, Milenko Prvacki, Cai Heng, Ye Shufang, Eric Chan, Ding Yanyong, Gywe U Lun, Sutee Kunichayanont, Pinaree Sanpitak, Manit Sriwanichpoom, Thaweesak Srithongdee, Vincent Paul Padilla, Huang Binhong, Zhang Daqian, Jogen Chowdhury and Sunil Das. The collection of artefacts, obtained through gift or purchase by LASALLE, includes
early ceramic and porcelain ware
originating from various historical periods in different parts of Asia. The third major group of works includes
sculptures
by the founder of LASALLE, Brother Joseph McNally, and outdoor sculptures by artists such as Elsie Yu.
View all Asia-Europe Museum Network (ASEMUS) members in Singapore