Handbook of Cultural and Creative Industries in China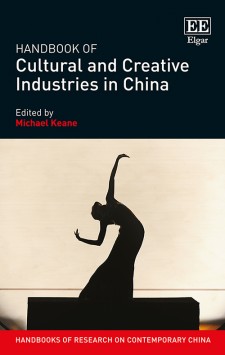 Handbook of Cultural and Creative Industries in China 
published 2016 in the 
Handbooks of Research on Contemporary China series
. Edited by Michael Keane, Curtin University, Australia.
China is at the crux of reforming, professionalising, and internationalising its cultural and creative industries. These industries are at the forefront of China's move towards the status of a developed country. In this comprehensive Handbook, international experts including leading Mainland scholars examine the background to China's cultural and creative industries as well as the challenges ahead.
The chapters represent the cutting-edge of scholarship, setting out the future directions of culture, creativity and innovation in China. Combining interdisciplinary approaches with contemporary social and economic theory, the contributors examine developments in art, cultural tourism, urbanism, digital media, e-commerce, fashion and architectural design, publishing, film, television, animation, documentary, music and festivals.
Students of Chinese culture and society will find this Handbook to be an invaluable resource. Scholars working on topics related to China's emergence and its cultural aspirations will also find the themes discussed in this book to be of interest.
The Editor Michael Keane discusses the publication in the Creative Transformations Asia blog:
The Handbook of the Cultural and Creative Industries in China constitutes new material, covering a wide range of issues including digital literacy of the post-70's generation, the online lives of elderly Chinese, the emergence of maker spaces and social innovation, the implosion of a ghost town in northern China, the advent of mobile reading, internet television, the surge in film co-production, as well as radio, self-help publishing, copyright, e-commerce, and independent movie festivals. There are chapters dealing with creative clusters, tourism, architecture, and fashion as well as chapters problematizing the concept of creativity.

In compiling the book I took the opportunity of including leading scholars from the Mainland, people who could provide an insider's account of China's attempt to take its culture to the world. The contrast between Mainland scholars and those writing outside the Mainland is evident in the degree of critical investigation of policy. For the former, policy serves the purpose of development; for the latter it restricts creative expression. This, however, does not devalue the contribution of the Mainland Chinese authors in any way, rather it shows the strong connection between government and the cultural and creative industries.
More information, how to order, and to read a sample of contents