from - to
13 Apr 2016 - 12 Apr 2017
MOOC Chinese Contemporary Art Award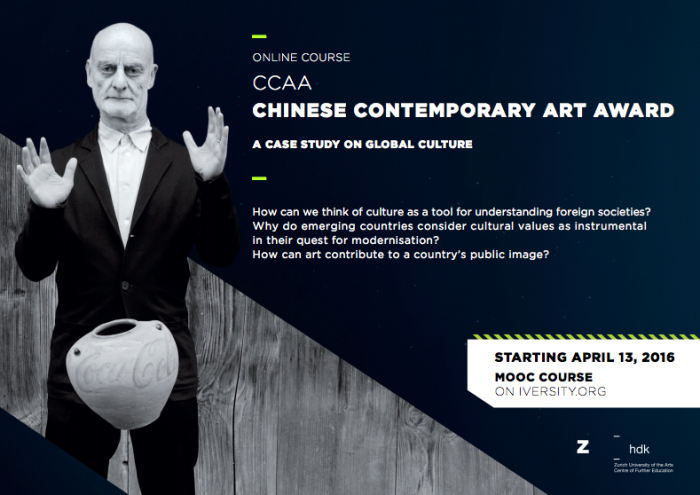 Zurich University of the Arts (ZHdK)
 has launched the first-ever MOOC (Massive Open Online Course) on Chinese contemporary arts developed by a Swiss arts and design university. The English-speaking online course 
Chinese Contemporary Art Award – A Case Study on Global Culture
 launched on 13 April 2016 on the iversity.com e-learning platform and is available for one year. The course offers exclusive contents and interviews about the evolution of Chinese Contemporary Art over the past 40 years. The course thus provides unique insights into the emergence of one of today's most influential art systems. Coursework considers the example of the
Chinese Contemporary Art Award (CCAA)
, established by Uli Sigg in 1997. The CCAA online course is tailored to the needs and interests of curators, collectors, art managers, artists, journalists, cultural producers, gallery owners and researchers but equally attractive for curious individuals.
How can we think of culture as a tool for understanding foreign societies?
Why do emerging countries consider cultural values as instrumental in their quest for modernisation?
How can art contribute to a country's public image?
These are central questions in an increasingly globalised world. Through a case study on global culture, this online course on the first ever award for contemporary art in China aims to address these questions and to find some possible answers. While working through six chapters, you will receive exclusive reading material, supplementary videos and background information about the developments in the Chinese art scene over the past 40 years, the Chinese Contemporary Art Award established by Mr Uli Sigg as well as the Sigg Collection as part of the newly created M+ museum in Hong Kong. Moreover, you will gain insights into Chinese contemporary art, first-hand information about the art scene in China, and a wide range of contacts with relevant local and international institutions and actors. The course is produced by the Centre of Further Education at the Zurich University of the Arts (ZHdK), based on research by IFCAR and presented by Michael Schindhelm on the e-learning platform iversity.org. This online course will be accessible for one year, beginning on April 13, 2016. For the first six weeks, it will be released as a time-based MOOC with a new chapter launched every Wednesday. Later on, it will be available as a self-paced course.
This course features two different tracks.
The Audit Track is free and allows you to get familiar with the subject. The Certificate Track costs €119. To obtain a Certificate of Accomplishment, you must submit an assignment. The ZHdK Centre of Further Education evaluates assignments three times a year:
22 June 2016, 23 November 2016
and
3 May 2017