Cultural and creative spillovers in Europe | report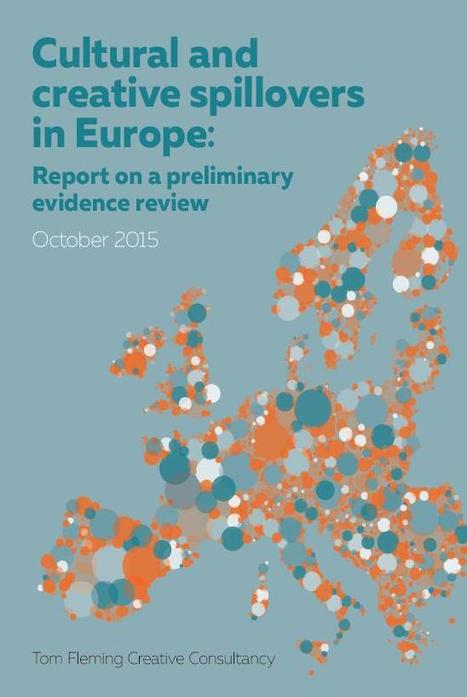 A report on '
Cultural and creative spillovers in Europe
' is published, setting out a preliminary evidence review of the spillover effects of public investment in the arts, culture and the creative industries in Europe.
The report was funded and commissioned as a collaborative research action, led by Tom Fleming Creative Consultancy, by a consortium of public bodies and foundations in Europe, policymakers and advocates for public investment in the arts, culture and creative industries.
The study sets out a preliminary evidence review of the spillover effects of public investment (public money awarded directly or indirectly by government) in the arts, culture and the creative industries in Europe. The starting point for this research uses a broad definition of spillovers, which takes account of previous work in the field and seeks to meet the strategic and practical needs of artists, cultural organisations, creative businesses, policymakers, funders and strategic bodies:
We understand a spillover(s) to be the process by which an activity in one area has a subsequent broader impact on places, society or the economy through the overflow of concepts, ideas, skills, knowledge and different types of capital. Spillovers can take place over varying time frames and can be intentional or unintentional, planned or unplanned, direct or indirect, negative as well as positive.
The research consisted of:
• the creation of the first evidence base of 98 spillover projects,
• a review of evaluation methods and the strengths and weaknesses of existing methodologies,
• finding an evidence-based concept and definition of 'cultural and creative spillover effects', and
• recommendations for future research on spillover effects.
To analyse the evidence, the authors have adopted an approach which categorises each spillover effect into three broad and overlapping types of spillover:


Knowledge spillovers refer to the new ideas, innovations and processes developed within arts organisations and by artists and creative businesses which spill over into the wider economy and society without directly rewarding those who created them.


Industry spillovers refer to the vertical value chain and horizontal cross-sector benefits to the economy and society in terms of productivity and innovation that stem from the influence of a dynamic creative industry, businesses, artists, arts organisations or artistic events.


Network spillovers relate to the impacts and outcomes to the economy and society that spill over from the presence of a high density of arts and/or creative industries in a specific location (such as a cluster or cultural quarter). The effects seen in these are those associated with clustering (such as the spread of tacit knowledge) and agglomeration, and the benefits are particularly wide, including economic growth and regional attractiveness and identity. Negative outcomes are also common – e.g. exclusive gentrification.


Without a new holistic research agenda, cultural and creative policies will not be able to innovate, unleash and capture the wider value of the arts, culture and the creative industries to the wider economy and society. We recommend that governments and policymakers at all levels realise that they are key change-makers for the creation and evidencing of cultural and creative spillovers.
Read more
and download the report