75 years of Arts and Culture in Switzerland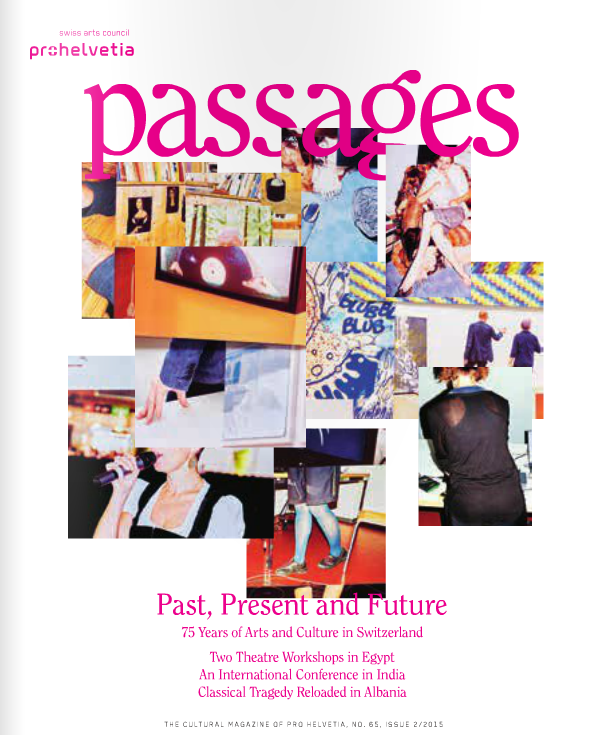 2016 marks the 75th anniversary of the founding of Pro Helvetia, the Swiss Arts Council. Its online magazine Passages features the timeline with key milestones, examining the changes in political and social context that have shaped its work.
Past, Present and Future
This year we have multiple anniversaries to celebrate. 75 years ago, Pro Helvetia opened its first small office on Hirschengraben in Zurich, in the historic building in which we are still located today. 30 years ago, the first issue of Passages was published, coinciding with the inauguration of the Centre Culturel Suisse in Paris. Reasons enough to take a trip down memory lane.
The timeline featured in this issue presents key milestones in the Arts Council's history, from its origins to the present time. In his introductory article, historian and journalist Daniel Di Falco examines the political and societal context that led to the founding of Pro Helvetia in 1939, as well as the tensions between politics and culture that have shaped its work over the years. Supporting and promoting arts and culture has always been central to Pro Helvetia's mandate. We have therefore placed five Swiss artists, representing different generations and disciplines, at the heart of this issue. Theatre artist Milo Rau concludes the dossier section with an impassioned speech to the artists of the future.
Speaking of the future: we also have an announcement to make. After 30 years and 65 issues, Passages is taking a makeover break. We plan to return with new content and a new look in late 2016.
Featured in the current issue:
The writer and translator Giovanni Orelli in conversation with Yari Bernasconi
A portrait of the multimedia artist Christian Marclay, by Aoife Rosenmeyer
An interview with the dancer and choreographer La Ribot, by Anne Davier
An interview with the electronic artist Valentina Vuksic, by Christian Pauli
Vocal artist Nadja Räss in conversation with Lena Rittmeyer
A message for the artists of the future, by Milo Rau
Further topics:
Two theatre workshops in Egypt
An artists' summit meeting in India
A new interpretation of the Medea myth in Albania