Pro Helvetia 2021 Artists Residencies in South Asia and Switzerland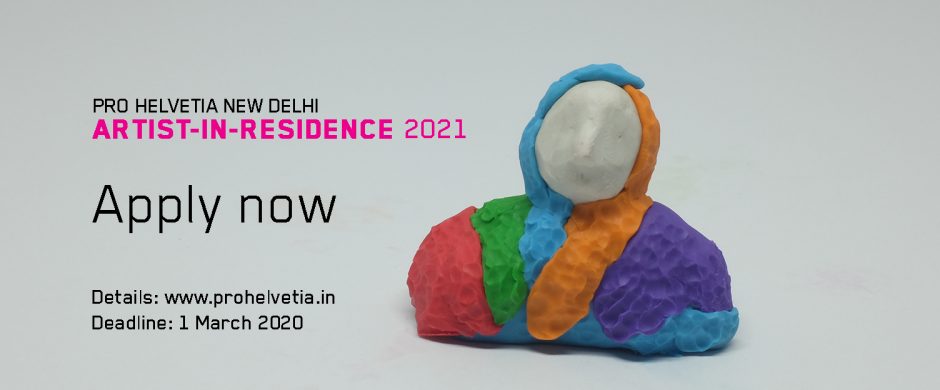 Call for Pro Helvetia artist residencies, linking Switzerland with South Asia. A residency (of up to 3 months) for Swiss artists in South Asia ( to India, Bangladesh, Nepal, Pakistan or Sri Lanka) or, conversely, for artists from South Asia (from either India, Bangladesh, Bhutan, Nepal, Pakistan or Sri Lanka] in Switzerland gives artists the chance to gain a broad insight into a different cultural environment.
The aim of the residency is to find inspiration, establish networks and contemplate new projects and collaborations. In addition to a place to work and accommodation, Pro Helvetia will provide specific coaching. The Swiss Arts Council covers the cost of travel, insurances and per diem expenses. Applicants may benefit three times in total from a Pro Helvetia residency.
Information regarding residencies being offered by Pro Helvetia New Delhi
For Swiss artists and art practitioners
Swiss artists and cultural practitioners can apply for a residency to the following countries in South Asia:
•India
•Bangladesh
•Nepal
•Pakistan
•Sri Lanka
As part of our increasing networks and activities in the entire south Asian region, we encourage artists to apply for residencies in the above mentioned countries. The artist could either have already identified the partner in the host country and needs to mention this in the proposal, or request for Pro Helvetia New Delhi to make this contact for them.
The effort of the New Delhi office will be to facilitate a residency in the requested country in South Asia. However, the artist will have to be open to alternate options within the region, based on the best possible match with their application.
For South Asian artists and art practitioners
Pro Helvetia facilitates residencies in Switzerland for artists and cultural practitioners from
•India
•Bangladesh
•Bhutan
•Nepal
•Pakistan
•Sri Lanka
in the areas of performing and visual arts, literature, design and interactive media.
Applications must be written in English and can be submitted until 1 March 2020 via www.myprohelvetia.ch