Young Creative Entrepreneur | digital music | call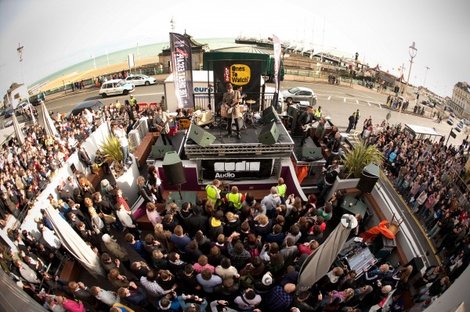 As part of the Young Creative Entrepreneur awards scheme which identifies and builds networks of innovative entrepreneurs in the creative sector around the world, the British Council is looking to select 3 international winners for the Young Creative Entrepreneur-Music award 2012. 
This year, an open competition is going to select 3 international entrepreneurs who will win a trip to the UK to attend the music industry event,
The Great Escape
, the UK's leading music business conference and Europe's leading festival for new music.  The 3 winners will be able to attend both the festival and the conference and have the opportunity to speak in a panel at the conference which will showcase innovative digital music businesses from around the world.
Winners must be free to travel to the UK to attend a 3-day programme at the Great Escape from 10-12 May 2012. 
How much does this cost? 
The British Council will cover international return flights to the UK and train travel from London to Brighton. They will also cover hotel accommodation at the official conference hotel for 3 nights from 10-12 May and
delegate passes
(covering both festival and conference) to the Great Escape.  The British Council will not cover the cost of food/other expenses or additional hotel costs in London on arrival/departure.
 Who is eligible?
In 2012, the search is specifically for entrepreneurs who are running digital music companies which demonstrate innovative business models in the international music business, who must:


Be aged between 21 and 40 at the date applications are due


Already work in the music sector with at least three years experience


Have their main offices outside of the UK (all countries outside of the UK are eligible but a preference will be given to those from emerging music markets including Africa, Latin America, Eastern Europe, Russia, the Middle East, India and South Asia, and South East Asia).


Be entrepreneurial and have shown their ability in the promotion and development of  the music sector in their country, in either a commercial context, public context, or both


Be able to represent the wider music sector/context of their country in public discussions


Through their character, drive and abilities, demonstrate their potential as a future leader of the sector and be interested in future work and business with the UK


Have English language skills to IELTS 6  - 'competent user' or above 


How to apply
Please complete the
application form
and send all
applications to Rebecca Shoesmith at
cce@britishcouncil.org
by 5pm (UK) on Monday 27 February
Applications will be assessed by the strength of information provided, in consultation with The Great Escape and based on selecting 3 companies representing a range a geographical spread.
Phone interviews to be conducted in the week of 27 February and winners selected by 5 March.
 Source: British Council