Vienna | REAKTOR Potenziale call for artistic intervention concepts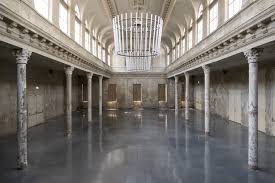 REAKTOR art institution in Vienna has a call for artistic intervention concepts, to be developed in the main hall of REAKTOR over a 1-week residency and showcased in an exhibition in October 2021. There is also a call for film entries for the 2021 film festival.
A call for concepts for a spatial intervention with a focus on REAKTOR's main hall. The chosen artists will be invited to deepen their concepts within a 1-week's residency in summer and then showcase their work to the public within an exhibition in the second half of October 2021. We provide costs for travelling and accommodation as well as a budget of up to EUR 3.500,- for the exhibition production, together with practical assistance from the REAKTOR's technical team.
Further information and the application form for REAKTOR Potenziale can be found at: https://www.reaktor.art/en/open-calls
The deadline for submissions is 31 May 2021.
In October 2021 we present the third edition of the REAKTOR International Film Festival, RIFF. Four days of screenings will display films from all over the world – hidden jewels, rebels without a cause, monstrous abysses, heartbreaking beauty.
Filmmakers are invited to submit their projects until 31 July 2021 at: https://filmfreeway.com/REAKTORInternationalFilmFestival
Further information can be found at: https://riff.reaktor.art/
REAKTOR is a privately run transdisciplinary art institution based in Vienna. Here, on a total surface area of 1,200 m2, various forms of artistic expression are brought together and made accessible to the public. The focus is on film, space-defining art and music theatre, new music, jazz and experimental interpretations of contemporary music.