At Home/Being Home: e-residency for emerging artists from Asia & Spain | Open call [EXTENDED]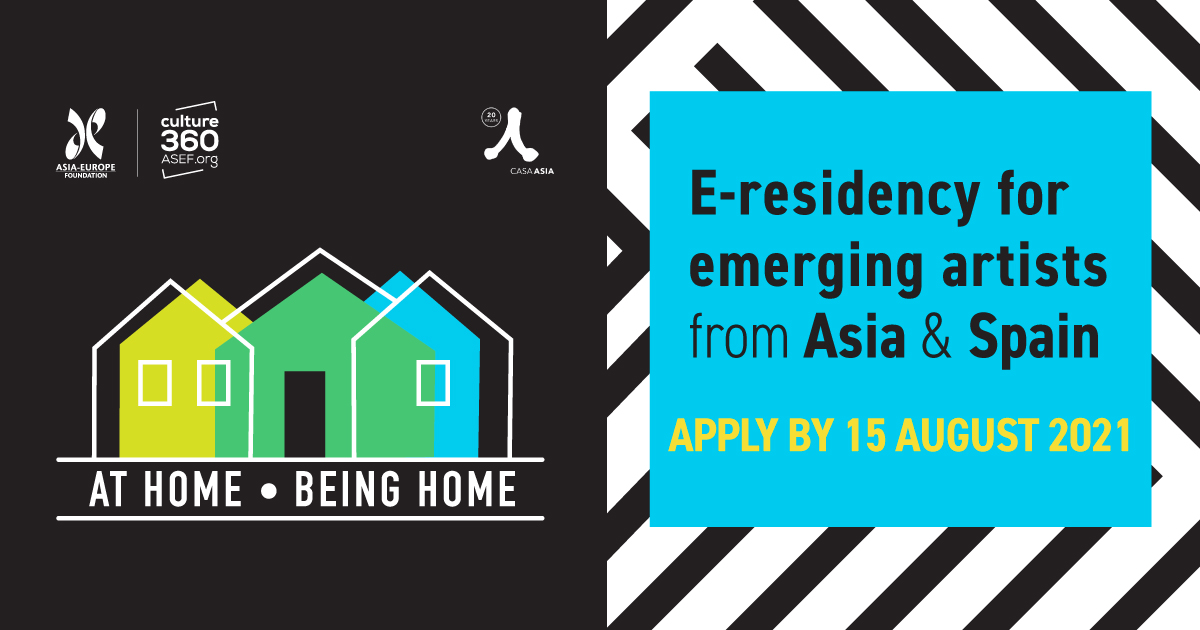 [OPEN CALL DEADLINE EXTENDED TO 15 AUGUST]
ASEF through culture360.ASEF.org and Casa Asia are pleased to launch the open call for At Home/Being Home, an e-residency for young emerging artists from the performing arts, music, film and new media sectors. With this e-residency we continue to organise virtual capacity building initiatives in response to the impact of the global pandemic. The residency will consist of a capacity building component and a collaborative component. It will be held online for a period of 6 weeks and will offer an opportunity for capacity building, peer learning and collaboration. 4 participants from Spain and Asia will be selected through an open call and grouped in pairs. Each pair will work together with the support of a mentor, expert in this field, who will guide the two pairs of artists to develop their project.
About the Residency
Format:
Selected artists will work in pairs. Each pair will be assigned a mentor and will collaborate online over a period of 6 weeks (

15 September to 29 October 2021

).

Applicants are encouraged to apply in pairs. For individual applicants, the pairing will be done by the organisers.

Each applicant/pair of applicants is/are required to respond to the theme as indicated in the call. E

ach applicant/pair will further define and propose a specific project based on the theme to be developed with the mentor.

Each pair will work on a final output that could take the form of an online performance or work in progress, photo documentary, podcast, video documentary, amongst others. The final output of the residency will be published on

culture360.ASEF.org

and Casa Asia

social media channels

At the end of residency, each pair will take part in a webinar, podcast and/or video interview about the collaborative process as part of a wider sharing of their residency experience.
Fee: Each participant will receive a fee of SGD 750 for their participation in the residency to be used for the implementation of their project idea (e.g. research fee, purchase of materials or any other necessary service fee)
Mentor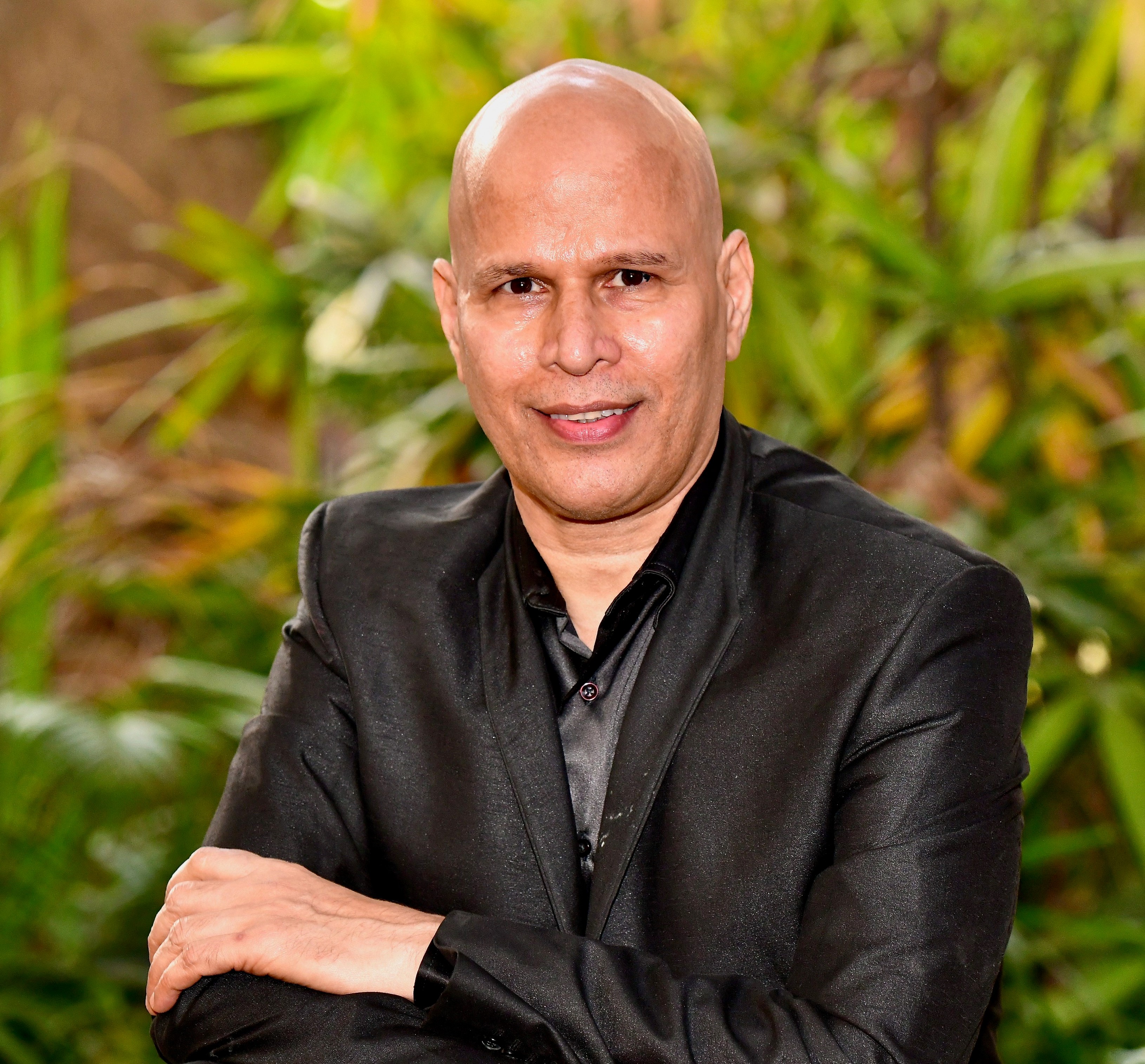 Mr Jayachandran PALAZHY (India)
Choreographer & Artistic Director, Attakkalari Centre for Movement Arts, Bangalore
Jayachandran Palazhy is a changemaker, a visionary leader and the Artistic Director of Attakkalari Centre for Movement Arts, Bangalore. Trained in Contemporary Dance, Ballet, Bharatanatyam, Kathakali, Indian folk dance forms, Kalarippayattu, Yoga, Tai Chi, Capoeira and African Dance forms, Jayachandran's strategic interventions and initiatives has impacted the development of contemporary dance in India. An acclaimed choreographer and teacher, he has collaborated with reputed international artists to create some very exciting multimedia dance productions such as City Maps, Beyond the Walls for Men, ScannedV, TransAvatar,Purushartha, Chronotopia, MeiDhwani,
AadhaaraChakra – a Dancelogue and Bhinna Vinyasa, which have received widespread critical acclaim, and toured extensively within India and internationally. Jayachandran is the Director of Attakkalari India Biennial festival, FACETS Choreography Residency, Incubation Centre for Arts & Media (ICAM) and the Attakkalari Culture Port (a digital arts house). Jayachandran has participated in artistic residencies internationally, presented papers and lecture presentations and directed an exhaustive research and documentation project NAGARIKA - an interactive digital information system on Indian physical and performance traditions. He has worked as director, consultant and mentor for dance residencies and festivals across the world and is a guest faculty in few reputed universities in India and abroad.
Theme
What is home? What is being at home? What is being away from home?
With the current pandemic environment, 'Stay at Home' has come to be a common term around the globe. At the same time, it has questioned our habits and way of living, embodying both a comfortable and a "forced" sensation. In order to mitigate the impact of the pandemic, people have been asked to stay home except for essential tasks. In this truncated existence, we have had to reacquaint ourselves with our homes and its structures, and its physical and functional aspects. It is not only a space for shelter, but now it is also an office, a classroom, an exercise studio, a playground, amongst other features. It has become a space where we feel protected but also confined from others, where physical contact is restricted but where the virtual world has expanded. Homes used to be spaces where people would escape to but with the lockdowns, people have also experienced the desire to escape from home.
Home is more than a place. It's a concept, an idea, a memory, an imagination. A non-physical and barrierless concept, which embodies a space that is identified as "home": it is our neighbourhood, our city, our country or the globe itself. Yet, the pandemic has restricted us to move within this space, depriving us from or transforming the sense of home. This has also changed the boundaries of home, the opportunities for encounter, dialogue, reflection, and creation.
So, what is home? What does 'being at home' mean? And what does 'being away from home' mean? Are new ideas/emotions of home emerging? Are people envisioning different kinds of realities and homes? What makes such homes, who could be the inhabitants and what all might happen there? Will the pre-pandemic world have a space in that imagination or is it an emerging hybrid reality? We welcome your ideas of home and their possible artistic treatments through your participation in this residency.
Eligibility criteria
National of

an ASEM Asian countries and any ASEM European nationals currently residing in Spain.

See the list of ASEM Partner countries at: https://www.aseminfoboard.org/about/partners.

Emerging artists between the ages of 18 and 28 with 2 to 4 years of experience in the following disciplines: performing arts (theatre, dance, music), new media and film, with a focus on interdisciplinarity.

Good written and

fluent spoken

English (all communication and writing will be in English)

We invite applications submitted as a pair or as an individual. In the case of applications as a pair, each member must be of different nationality/region. For individual applications, the organisers will pair the applicants.
Applicants who have never participated in/worked on international projects are encouraged to apply (see related question in the application form)
Applicants who have missed out on training opportunities as a result of the pandemic are encouraged to apply (see related question in the application form)
Requirements
Take part in the online residency and work with a peer artist and assigned mentor for 6 weeks. Please note that for individual applicants, the pairing will be done by the organisers based on their interest expressed in the application form.

Submit weekly updates about the progress of the project through video clips/images to be shared via 'Artists' Diary' posts on

culture360 Instagram

page

and shared on Casa Asia's channels.

Prepare a final output that could take the form of an online performance, work in progress, podcast, video documentation, mock project presentation online, amongst others, which will be published on culture360

and its social media channels and shared on Casa Asia's channels.

Take part in a webinar to share the learnings outcomes of the residency with a wider section of the arts community.

Take part in a video interview to share the artistic process.

Submission of applications
We invite you to submit your application through this form and attach the required documents latest by 15 August 2021:
https://asiaeuropefoundation.formstack.com/forms/at_home_application_form
Selection Panel
A panel comprising one representative from Casa Asia, one representative from ASEF and the mentor will evaluate and select the participants. Please note that only successful candidates will be notified latest by 10 September 2021.
Project timeline
| | |
| --- | --- |
| Open call for applications | 15 June to 15 August 2021 |
| Selection | 16 to 27 August 2021 |
| Announcement of selected participants | 10 September 2021 |
| Online residency | 15 September to 29 October 2021 |
| Presentation of outcomes and online activities | 15 to 19 November 2021 |
| Public webinar with participants, mentor & organisers | November-December 2021 |
About the partners
Casa Asia is a public consortium consisting of the Spanish Ministry of Foreign Affairs, European Union and Cooperation, the Generalitat of Catalonia, and the Barcelona and Madrid city councils with its headquarters in Barcelona, and a centre in Madrid. Casa Asia aims at contributing to a better understanding between Spain and Asian countries and to promote institutional, economic, cultural and educational relations as well as encouraging exchanges in the domains of culture, ideas and projects of shared interest. Casa Asia is a reference and meeting point in Spain with regard to relations with Asia-Pacific.
ASEF promotes understanding, strengthens relationships and facilitates cooperation among the people, institutions and organisations of Asia and Europe.
culture360.ASEF.org is an online platform managed by ASEF since 2008. It counts over 280,000 unique visitors yearly and offers up-to-date information on arts, culture, and heritage from 51 countries in Asia and Europe. Publicly funded by the Asia-Europe Meeting (ASEM), culture360.ASEF.org is for artists, cultural professionals, policy makers, and anyone interested in international cultural cooperation.