Prix Ars Electronica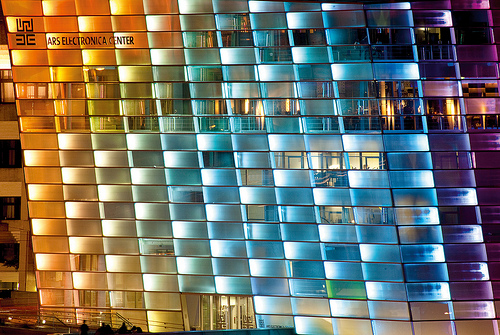 [caption id="attachment_8157" align="alignright" width="350" caption="ARS Electronica Center, Linz | credit: Nicolas Ferrando, Lois Lammerhuber"]
[/caption]
Call for entries
in seven interdisciplinary new media categories for the prestigious Prix Ars Electronica, to be awarded at the international festival in Linz, Austria in September 2011.
The Prix Ars Electronica has served as an interdisciplinary platform for everyone who uses the computer as a universal medium for implementing and designing their creative projects at the interface of art, technology and society. The next Ars Electronica Festival is set for SEPTEMBER 1-6, 2011.
The event calls for entries in seven categories, including a youth competition. And since internationally renowned artists from over 70 countries also participate in the Prix Ars Electronica, it has established itself as a barometer for trends in contemporary media art. The Prix Ars Electronica calls for entries and awards prizes in the following categories:
Computer Animation / Film / VFX
Interactive Art
Digital Musics & Sound Art
Hybrid Art
Digital Communities
u19 – freestyle computing
[the next idea] voestalpine Art and Technology Grant
DEADLINES
Start Online Submission: Mid December 2010
Online Submission Deadline: March 18, 2011 (date of potmark is determinative)
Nominations
Works can be nominated online for prize consideration in the individual competition categories until March 18, 2011.
Nominations are recommendations; thus, nominated projects are not automatically entered in the competition. The nominated artists will be contacted by the organizer before the jury convenes. Then, projects must be formally submitted by the artists themselves prior to the entry deadline and in accordance with all competition criteria in order to be entered in the competition.
JURY SESSIONS
May 5 to 8, 2011
NOTIFICATION
Winners of Golden Nicas, Awards of Distinction and Honorary Mentions will be notified before end of May. In the interest of all entrants, we request that the entrant (or a representative named by him/her) be available during the period when winners will be notified at the address etc. specified in the entry form.
AWARDS CEREMONY
The Prix Ars Electronica 2011 awards presentation will take place during the Ars Electronica Festival 2011 in Linz.
Winners of Golden Nicas and Awards of Distinction must make a commitment to accepting their awards in person and to presenting their works at the Prix Ars Electronica Forum, an artist symposium. Groups and institutions are requested to nominate a representative to fulfill this commitment. As guests of Ars Electronica, winners will receive complementaryhotel and economy class airline tickets for their trip to Linz.
——————————————————————————–
This opportunity came via
On-the-Move
(Thanks!)
——————————————————————————-