Prince Claus Fund's Ticket Fund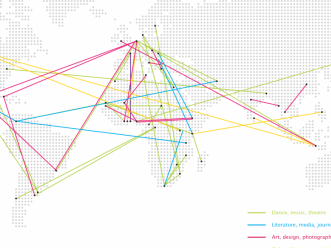 The
Prince Claus Fund's Ticket Fund
supports the cross-cultural exchange of artists and cultural practitioners. By covering travel costs, such as economy class plane or train tickets, the Ticket Fund assists in the professional growth and networking abilities of those it supports.
The Ticket Fund is
open throughout the year
to receive applications. It is specifically intended for artists and cultural practitioners living in Latin America, Asia, Africa, the Caribbean, non-EU Balkans and non-EU Eastern Europe who wish to travel within these areas.
PLEASE NOTE: there is no specific deadline but applications must be received at least 8 weeks before the intended date of travel
The Ticket Fund
does not
include accommodation, visa or per diem costs.
General Criteria
• Emerging artists and cultural workers are encouraged to apply (individuals or those representing independent cultural/artistic organisations);
• Priority is given to individuals up to 35 years old and/or within the first 10 years of their career;
• Applications focusing on contemporary artistic. and cultural disciplines including cultural capacity building are encouraged
Timeline
• Applications must be received at least 8 weeks before the intended date of travel;
• Successful grantees must request reimbursement maximum 4 weeks after the travel has taken place. Reimbursement is granted only at this time, and not before the intended travel.
Types of Travel that are Supported
• Attendance at a meeting, festival, conference for the first time to expand professional networks;
• Attendance at capacity development training (e.g. workshops, talent development programmes)
• Participation in a local arts and culture scene followed by knowledge-sharing with local and/or international peers;
• Setting up new (experimental) cross-border partnerships for upcoming projects, particularly those in the preparation or development phase.
• Applicants from countries listed on the
DAC list
are given priority over applicants seeking to travel from/to Western countries
See the ticket fund GUIDELINES
for full details of what type of activity is eligible and ineligible.
The Prince Claus Fund
supports artists, critical thinkers and cultural organisations in spaces where freedom of cultural expression is restricted by conflict, poverty, repression, marginalisation or taboos. Annually, the Fund grants eleven Prince Claus Awards to individuals and organisations for their outstanding achievements in the field of culture and development.  The Prince Claus Fund is based in Amsterdam and is financially supported by the NL Ministry of Foreign Affairs, the Postcode Lottery and individual donations.