Open Set Dutch Design Seoul Sessions | open call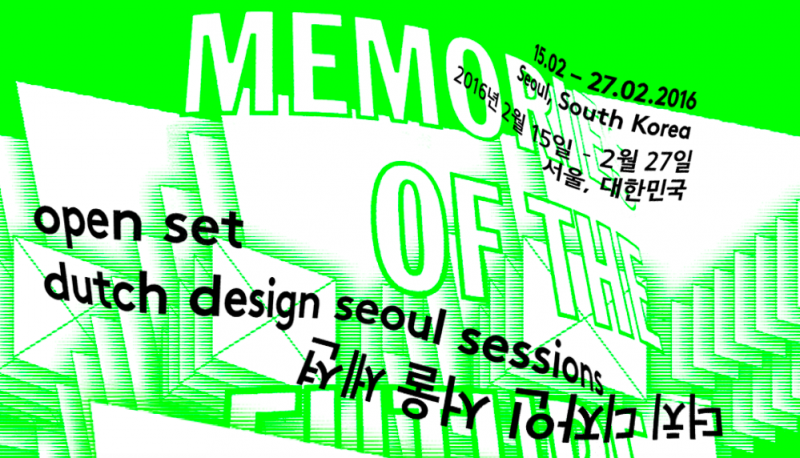 Creative Industries Fund NL offers five stipendiums for creative professionals to participate in the Open Set Dutch Design Seoul Sessions in Seoul, South Korea. This high quality programme runs 15-27 February 2016 identifying the latest developments in design, its relations with social and political debates, and cooperation with other disciplines and sectors.
Each stipendium covers the tuition fee for the full program and the travel and accommodation expenses up to € 1.500 per person.
Deadline for applications: 15 December
Please note: although this call is not restricted to Dutch nationals, there are specific conditions (applicants must provide a certificate of registration from a Dutch Chamber of Commerce (KvK) or BSN number) which mean that it is intended for design creatives running businesses in the Netherlands.
This program will run from 15th till 27th February 2016 and will be hosted by Kookmin University, in Seoul. In order to provide the ability to explore deeper the cultural sector in South Korea and build up a network, a series of public events, studio visits and gatherings are co-organized with and hosted by CA Korea magazine and The Book Society.
Program
Open Set provides a high-quality program, including symposiums and workshops that identifies the latest developments in design, emphasizes its relations with the urgent social and political debates, and also promotes cooperation with other cultural disciplines and sectors. Open Set is addressed to international designers practicing in the broad range of creative industry sectors, and also to artists and researchers while remaining still open for non-designers, who are interested in the research subject and can contribute from the perspective of other professional sectors.
Open Set was initiated 4 years ago and since then has been situated in the Netherlands. In 2016, with the gathered effort of international partners, the first edition of Open Set abroad will take place in Seoul, South Korea. This program will be the first of the two events of 2016, continuing in summer with the already established edition in Rotterdam. Each of the programs introduces a unique set of tutors and speakers, while still remaining connected by the annual theme of research.
Tutors and Speakers Open Set Seoul 2016
Max Bruinsma, Jinyeoul Jung, Sulki & Min, Peter Bilak, Karen Lancel, Annelys de Vet, Studio Lust, Mediabus, Koert van Mensvoort (Next Nature), Moon Kyungwon & Jeon Joonho (News From Nowhere) and many others to be announced soon.
Theme – Memories of the Future
Open Set Seoul Edition will investigate the changing concepts of memory as part of our personal and collective identities, and how they are projected on images of the future. At the same time we investigate how this perception of the future alters our identities, our relations here and now. How these two concepts – memory and relations – are interconnected today and how design research and practice can help to think differently about their future scenario?
The theme addresses first of all to the contemporary understanding of memory by itself – including thinking about information which presents our global memory, its contemporary digitalization and also its editing and mediation, – as well as the concept of relations between people, institutions, systems and etc., which will be the prism for the discussion about past, present and future.
Procedure
You can submit your application by email at apply@openset.nl
till
15th of December 2015
. The selection will be made based on the artistic quality of the designer and motivation for participation. The results will be announced to the applicants by e-mail before 23 December 2015.
Submission requirements
• motivation for participation
• CV (max. two pages) and a selection of works (max. 5 projects) or online portfolio
• personal details and bank details (name and address, place of residence, IBAN)
• a certificate of registration from a Dutch Chamber of Commerce (KvK) or BSN number
• applications for the stipendium should be written in English
Further information
•
the recipients of stipendium are personally responsible for the timely booking of travel and accommodation.
• the recipients are asked to make a small presentation about the cultural sector and landscape in the Netherlands (e.g. a discipline, designer or artist, historical or futuristic view) which will be shown to the international participants of the course in Seoul.
• the recipients are asked to provide a concise report with a description of the activities they were involved in the course and the conclusions, along with representative images (free of copyright)
• all workshops will be held in English
• for questions about this Open Call and application procedure, please contact Irina Shapiro via opensetschool@gmail.com or 064.847.81.09
The information can be downloaded in English and Dutch
here