OK. Video – 6th Jakarta International Video Festival | Last call for Submission | Deadline 10th July 2013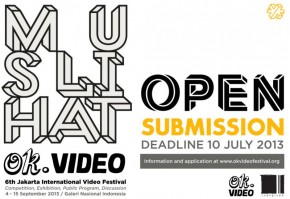 OK. Video – 6th Jakarta International Video Festival
open call to artists to submit works on the theme 'Muslihat' (Deception). Biennial festival taking place at National Gallery Indonesia in Jakarta in September 2013.
Deadline for entries: 10 July 2013
OK. Video is celebrating its 6th anniversary since the first festival in 2003. The festival has consistently been a room for meetings and exchange of ideas between artists, curators, institutions, and multidisciplines network from around the world. In the span of a decade, this festival has also presented contextual themes to observe and record the he presence and usage of media technology—specifically video—and social practices that come along with it, in the midst of  global change on the development of information and communication technology today.
This year, "Muslihat" [Deception] becomes the main theme for the festival. Within this theme, OK. Video is trying to observe the practices of outsmarting the technology in daily life, especially in non-producer countries like Indonesia. Muslihat has a close relation to "tricks" or "strategy". It is considered perfectly to represent the phenomenon that has been happening in the consumer society. In the same time, "Muslihat" has a mystical meaning; making the impossible possible. With a little "strategy" and "tactics", a technology product that is created with limited form and function, can function well enough to meet the user or consumer's desire.
MUSLIHAT OK. Video – 6th Jakarta International Video Festival
 accept multimedia works and/or moving image-based with diverse aesthetic approaches, from single-channel, online-based, installation, or experimental presentation, that were produced between 2011-2013 and/or still in conceptual draft, from all over the world. The three best works will receive special awards and will be announced on the  opening night of 
MUSLIHAT OK. Video – 6th Jakarta International Video Festival 
at the National Gallery of Indonesia.
OK. Video – Jakarta International Video Festival
 is a biannual video festival held since 2003 by ruangrupa, an artists' initiative in Jakarta, Indonesia.  OK. Video gives spaces to video works concerning social and cultural phenomena in Indonesia and abroad within a festival with specific theme.