Logo Design Contest for ASEAN Heritage Parks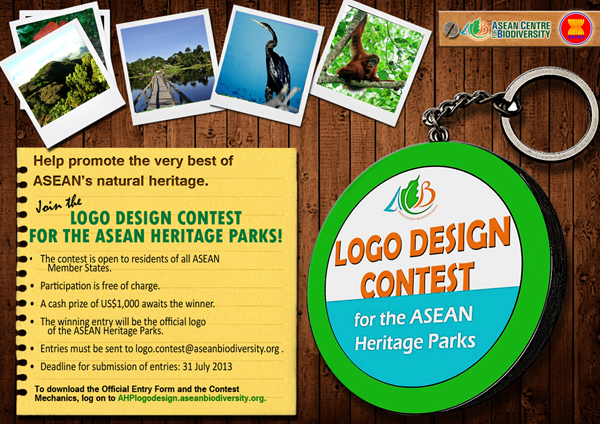 Use art for the environment - design a logo for the ASEAN Heritage Parks!  A design contest open to artists from across the ASEAN region (residents of ASEAN Member States) with a cash prize of US$ 1,000.
National parks, wildlife sanctuaries, and national protected areas are quite common, but most people are unaware that the Association of Southeast Asian Nations (ASEAN) has the first network of regional protected areas in the world. Known as the ASEAN Heritage Parks (AHPs), these sites are protected areas of high conservation importance which preserve a complete spectrum of representative ecosystems in the ASEAN region. Including natural/national parks, nature reserves, cultural sites and pre-historic sites, AHPs represent the very best of species and ecosystems of ASEAN.
To create greater recognition for the significance of AHPs, set them apart from other protected areas, and promote AHPs as prime nature destinations, the ASEAN Centre for Biodiversity (ACB) is launching an ASEAN Heritage Parks logo design contest. The winning logo will serve as the trademark to identify a specific protected area as an AHP.
ACB is encouraging artists from across the ASEAN region to join the AHP Logo Design Contest. The winner will be awarded during the 4th ASEAN Heritage Parks Conference scheduled on 1-4 October 2013 in Cagayan de Oro City, Philippines.
Full details here: 
http://ahplogodesign.aseanbiodiversity.org/
Deadline: July 31 2013
NOTE:
The AHP Logo Contest is open to residents of all ASEAN Member States, most especially to officials and staff of the 32 ASEAN Heritage Parks, including those from non-AHP protected areas.