ASEAN Photo Contest on Biodiversity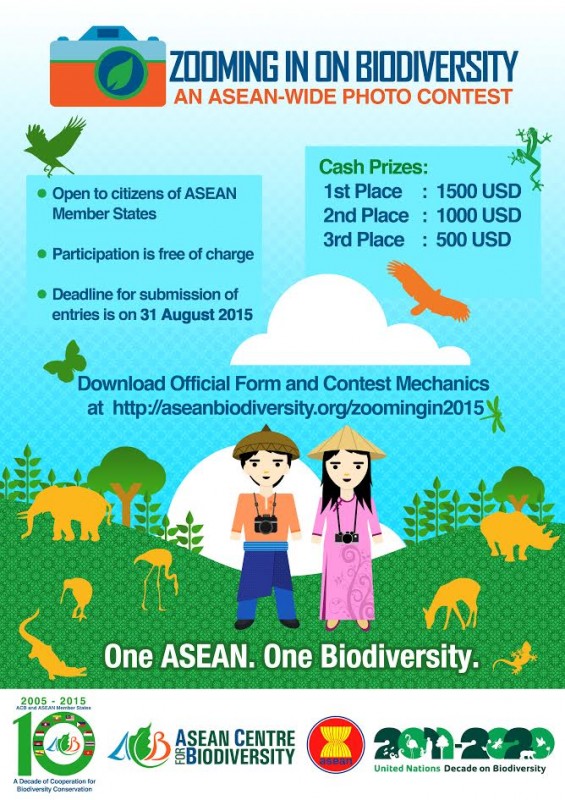 The 3rd ASEAN Zooming in on Biodiversity Photo Contest is open for entries from citizens of ASEAN Member States. Cash prizes and publication of winning entries is offered.

Organized by the ASEAN Centre for Biodiversity (ACB), the contest aims to capture the beauty, richness, and values of our biodiversity through vivid pictures of living creatures and their habitats.


ELIGIBILITY: the contest is open to all citizens of ASEAN Member States: Brunei Darussalam, Cambodia, Indonesia, Lao PDR, Malaysia, Myanmar, Philippines, Singapore, Thailand, and Viet Nam.
Biodiversity has been providing humans with basic needs – food, water and air; materials for medicine, clothing and shelter; air and water purification; soil enrichment; protection from harsh climate change; and many more. However, our biodiversity is under threat from irresponsible human activities, climate change, pollution, illegal wildlife trade, habitat degradation and conversion, overexploitation, and invasive alien species, among many others.
This year's theme is "
One ASEAN. One Biodiversity,
" to demonstrate that the ASEAN Member States are linked through biodiversity.
A total of 3,000 USD in cash prizes awaits the winners. Their photo entries will be published in the ASEAN Biodiversity Magazine and other international publications, ACB website, as well as featured in an exhibit.
Deadline for submission of entries is on 31 August 2015.
To download the official entry form and contest mechanics, log on to 
www.aseanbiodiversity.org/zoomingin2015
.