Commonwealth Connections residency programme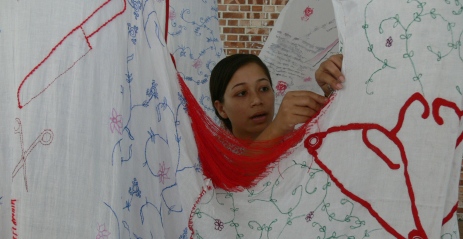 [caption id="attachment_6769" align="alignright" width="417" caption="Commonwealth Connections 2008 winner, Yasmin Jahan Nupur, Dress Code installation, 2008"]
[/caption]
The
Commonwealth Connections
international arts residencies aim to increase mutual understanding between people from different cultures though artistic exchange, and to give arts practitioners opportunities to learn new skills and share their experiences.
The 2011 scheme is aimed at visual artists and dancers who have shown promise in their own countries but who have had little opportunity to gain exposure abroad, and who would benefit from an early opportunity to study and work alongside other artists in another Commonwealth country.
Eligible categories:
Craft:
basketry, ceramics, glass, jewellery, textiles
Dance:
dance, choreography
Fine art:
installation art, painting, printmaking, sculpture
New Media:
installation art incorporating new technology, performance art incorporating new technology, sound art, video art, web-based art
Photography
Seven residencies will be offered for a period of between three to nine months in another Commonwealth country. Each residency is worth up to £8,000.
The applications are judged by international panels of judges drawn from artists, former winners, arts administrators, journalists and other experienced arts professionals around the Commonwealth.
Visual artists, dancers and choreographers who are Commonwealth citizens are invited to apply for the 2011 Commonwealth Connections international arts residencies. The residencies must be taken in another Commonwealth country - see website for full eligibility and conditions.
Click here to read the full rules
.
Application deadline: 30 Nov 2010
The
Commonwealth Foundation
was established in 1965 as a charitable trust to fund "interchanges" within the
Commonwealth countries
.