Brussels | The Producers' Academy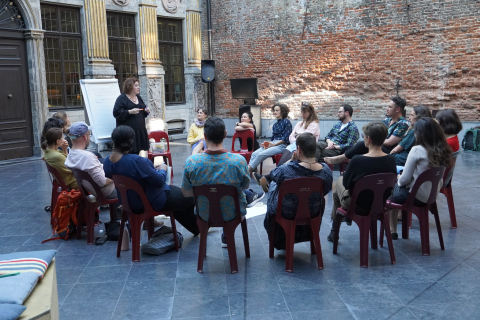 Applications are invited from international performing arts producers for The Producers' Academy. An international group of producers will gather with peers for 4 days in Brussels during Kunstenfestivaldesarts. Sorry for short notice! - applications deadline: 28 January 2022.
This is a free 4-day programme of workshops, discussions, meetings, reflections and sharing of experiences on international production and dissemination, organised for a group of 20 international performing arts producers.
The Producers' Academy is open to:
- People from all nationalities
- People who have at least five years of experience as a producer* in the performing arts sector**
- Producers/cultural entrepreneurs who have developed or are in the process of developing innovative way(s) to support creation in an international dimension and/or with a trans-sectorial approach (decolonisation, feminism, fair practices, climate change, accessibility etc.)
- The event will be held exclusively in English. Therefore, participants need to be able to understand, communicate and work in English.

* Producer: supervises, supports, follows an artist or a collective/company
** Performing arts: are excluded from this definition opera- and music-only related projects

CIFAS will offer 3 grants (travel and/or accommodation) to support producers from countries where little or no financial support is available for international mobility.
The Producers' Academy will take place in Brussels from 18 to 21 May 2022.
Deadline for applications: 28 January 2022