5th Land Art Mongolia - call for applications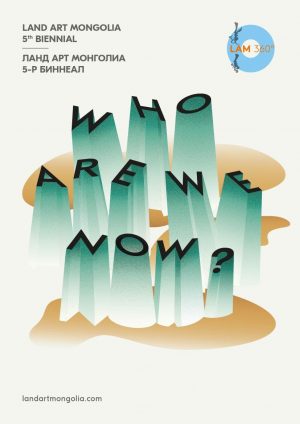 Call for applications for the 5th Land Art Mongolia. We seek applications from emerging and mid-career artists, experience in environmental art is requested. The program is designed to pursue personal creative work and share in collegial interaction within a small community of Mongolian and international artists.
During the Biennial production invited artists are accommodated in traditional gers located in a rural mountains setting and nomadic family neighbours, about 5 km away of a little village Murun Sum and about 4 hours from the capital Ulaanbaatar.
The professional ger camp provides bathroom and shower, kitchen, and studio. Artists are expected to interact with the environment of the nature. (installation, performance, earth art, concept, etc.)
A documentary exhibition of the realized works will be presented at the Biennial venues of Ulaanbaatar. The exhibition will be completed by a publication and a one-day symposium in the Academy of Science.
Artists presence in Mongolia: July 30- August 11th 2018 – Biennial LAM 360° open for the general public admission free from August 11. – 25. 2018
Eligibility:
National and International visual artists are eligible to apply. Please note the application, resume and all support materials must be in English. Students are not eligible for residencies. Accommodations will be provided to selected individual artists only.
Invited artists will be hosted during their stay in Mongolia. LAM 360° will provide transportation within Mongolia and full accommodation during the stay in Khentii Aimag and Ulaanbaatar July 30- August 11th 2018. Due to the limited resources in the steppe only individual proposals are accepted.
Deadline for submissions is January 30th 2018.
Curatorial decisions are expected by February 2018.
WHO ARE WE NOW ?
5th Land Art Mongolia
July 30th – August 25th 2018
Curator: Lewis Biggs
Globalisation can be understood specifically as an attack on cultures that are close to 'nature', or that continue to respect the values implicit in 'nature'. What are these values? The attitude that humanity shares a delicately balanced habitat with other animals, and that the entire ecology deserves our respect. It is a holistic outlook, advocating sustainable rather than exploitative approaches to resources. This attitude, these 'natural' values, were present in early Humanism. What went wrong?
The balance between city-dwellers and rural populations tipped in the direction of urbanism. More of the world's population is resident in cities than in the countryside, and this process continues to accelerate. It means that fewer and fewer people understand or value the complex and dynamic ecology of 'nature' as a set of values or a philosophical model. But urbanisation is only evidence of a more massive change both in the history of 'humanity' and in the history of 'nature'.
Further information on Land Art Mongolia