Land Art Mongolia 2012 | call for artists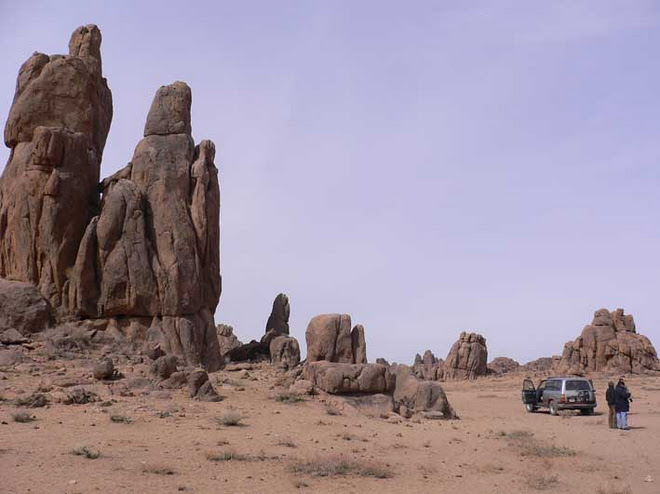 MONGOLIA 360° 2nd Land Art Biennial Open Call 2012. Organised in August 2012 in the Gobi desert, the Biennial offers a residency to artists wanting to interact with the unique nature reserve environment and to discuss what Land Art can reveal about Art & Politics.
ART & POLITICS
Global change in politics, the perspective of ecology in the 21st century and a new vision of diversity require a creative understanding. In order to develop a new chapter in Land Art and following the nomadic idea of the Walking Museum the Land Art Biennial in Mongolia was founded to be located in variously areas of Mongolia. In August 2012 with MONGOLIA 360° the 2nd international Mongolian Land Art Biennial will be take place in the very special location of Ikh GAZRIIN CHULUU Gobi. The Biennial will discuss a contemporary definition of what Land Art can reveal about Art & Politics.
During the residency artists have the opportunity to realize side specific works. Artists are expected to interact with the environment of the nature reserve and free in the choice of materials and artistic expressions (installation/performance/earth art/organic art/sculpture etc.)
A final exhibition including a catalogue and an according Symposium will present a documentation of the realized works in the National Mongolian Modern Art Gallery in Ulaanbaatar.
Interested artists are asked to submit applications by the following way:
- Personal information, contact address, email
- Current CV
- Documentation of prior work, up to 10 jpgs (not more than 1mb each)
- General statement by the artist on their work practice.
- Typed 1 page proposal on work plan and approach to residency
Incomplete applications will not be considered.
Regulations:
Invited artists will be hosted during their stay in Mongolia and be supported with transportation within Mongolia and full accommodation during the stay in Ulaanbaatar and the Gobi desert. There is no fee for transportation to Mongolia. If needed, Artists must apply for travel grants at their national art councils.
Deadline for submissions is the 30th of January 2012.
Send email submissions to:
proposal@landartmongolia.com
Read more
about Land Art Mongolia projects in Culture360 article:
Between Art and Environment: a Mongolian case study