Zürcher Theater Spektakel ZKB prizes announced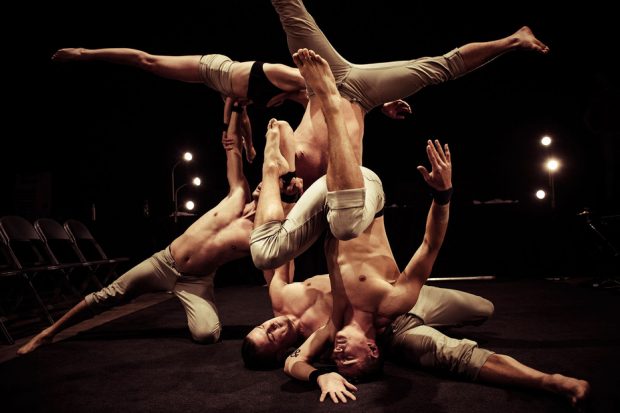 On the occasion of the Zürcher Theater Spektakel, the mayor of Zurich, Corine Mauch, and Dr. János Blum, member of the bank presidium of the Zürcher Kantonalbank,
have awarded
the 2016 ZKB performing arts prizes. The international prizes recognise an artist or a company working in independent theatre, dance theatre or performance art, who have distinguished themselves and shown innovation. The first ZKB Audience Prize went to Australian company Gravity & Other Myths.
The jury, consisting of five theatre experts, unanimously made the following decisions:
The
ZKB Patronage Prize
(30,000 Swiss Francs) goes to the Syrian production «While I Was Waiting» by Omar Abusaada (director) and Mohammad Al Attar (writer). The jury praised the theatre piece as «a work of art rendered historically urgent by the ongoing Syrian crisis, while embedding aesthetic qualities that outlive the considerations of time and geography».
The
ZKB Acknowledgement Prize
(5,000 Swiss Francs) is awarded to the Iranian performance artist Sorour Darabi for her Short Piece «Farci.e», in which she questions sexual identity and gender politics. The jury deemed the work relevant and courageous as it impresses by determination and provocative power as well as by adept use of composition and dramaturgy.
For the first time, the spectators could select their favourite from the nominated productions and award the
ZKB Audience Prize
of 10,000 Swiss Francs: By a large majority they chose the astonishing circus production «A Simple Space» by the
Australian company Gravity & Other Myths.
Find the detailed statements of the jury at the end of this
press release
Founded in 1980 as an annual international meeting of independent theatre groups, the
Zürcher Theater Spektakel
quickly evolved into a cultural event of international appeal. Today it ranks among the most important European festivals for the contemporary performing arts. This success story has been based on consistent and artistically outstanding programming, a unique atmosphere, the large number of engaged and open-minded spectators. For over 30 years these ingredients have made the Theater Spektakel a popular venue for both renowned and upcoming theatre and dance companies from all over the world. Each year the festival directors invite from around the world 35 to 40 individuals and companies whose creations are marked by formal independence, innovative character and artistic ambition.
Top image:
Gravity & Other Myths,
winners of ZKB Audience Prize