from - to
04 Jan 2013 - 14 Jan 2013
Yangon, Myanmar | The Flying Circus Project 2013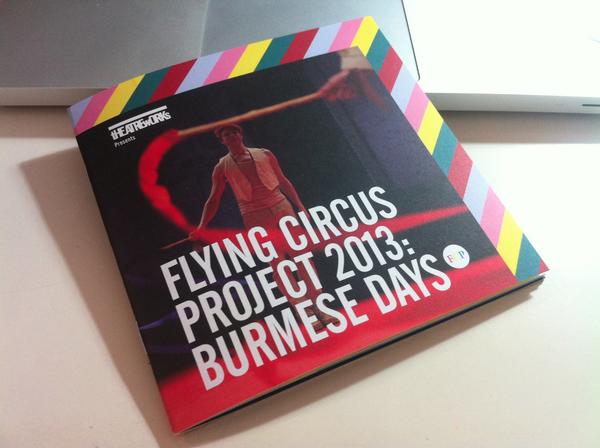 TheatreWorks (Singapore)
&
Theatre of the Disturbed (Myanmar)
present
The Flying Circus Project 2013
from 4 to 14 Jan 2013 in Yangon at the French Institute and other locations in Myanmar.
FCP 2013 Programme in Singapore: 16-20 January 2013
2013 marks the 8th edition of The Flying Circus Project or FCP which is conceived and led by TheatreWorks' artistic director, ONG Keng Sen. Over 12 days, FCP 2013 will move from Yangon to Mandalay, engaging with local communities of artists, activists, cultural workers, starting with the Art of Freedom Film Festival. Into its second year, the festival aims to broaden the essence and concept of freedom among the peoples of Myanmar through film as a medium. The FCP artists will also engage in two days of keynote addresses by Myanmar public intellectuals on issues of environment, education, feminism, digital media and the new Myanmar. During their stay in Yangon and Mandalay, the FCP artists will encounter many independent artists including Theatre of the Disturbed, the Wathann Film Festival, the Art & Museum Project: Mingon Museum of Contemporary Art, and Gitameit. Kaffe Matthews, and the FCP Alumni artists will conduct a series of workshops with the music students in Gitameit. First established in 1996, the FCP is a major programme
exploring creative expressions in Asia and beyond
, looking at individual practices.  The FCP is multi-disciplinary and brings together artists from various cultural backgrounds and from various cities.  Since 2007, artists from Europe, North America and Asia have participated in the FCP,  interacting with the cities, localities and contexts. In 2007, FCP worked on mobilising arts communities in Ho Chi Minh City while in 2009 / 2010, FCP created Alter U (short for Alternate Universities) in Phnom Penh and Siem Reap.
FCP 2013
takes place in Myanmar (
Yangon and Mandalay
), bringing together  Myanmar and non-Myanmar artists from various disciplines like performance, film and visual arts.  Through performance-lectures, presentations and screenings,  the artists will share their individual practice. The public is invited to these daily presentations at the French Institute. Included are  the performances by Theatre of the Disturbed :
Hotel Reverie Part 1 - Hamlet
and a new work for the FCP 2013,
Hotel Reverie Part 2 - Titus Andronicus
.
FCP 2013 artists
come from wide-ranging disciplines including visual culture, film and performance, they include  Anonmaa Rajakarun, Aung Tun Win, Brett Bailey, Fiona Koh, Gustavo Ciríaco, Joshua Yang, Julie Tolentino, Kaffe Matthews, Lin Htet,, Maija Hirvanen, Mriganka Nadhukaillya,  Nge Lay,  Ong Keng Sen, Rachael Swain,  Sonal Jain, Tadasu Takamine, Tellervo Kalleinen, Venuri Perera, Wah Nu, Wen Hui, Wu Wenguang, and many others.