from - to
18 Oct 2016 - 10 Dec 2016
UK / Indonesia 2016 - 18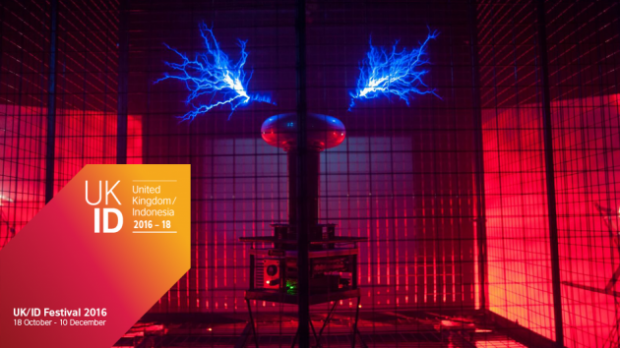 The first
UK/ID Festival
! a series of events and performances by some of the best young creative minds from the UK and Indonesia, 18 Oct - 10 Dec 2016. Events are taking place in Indonesia: Bandung, Jakarta, Solo, Ubud, Surabaya and Medan. The programme includes:
In Bandung and Surabaya, Glasgow based artist Robbie Thomson brings a thrilling blend of eclectic high-tech musical and visual experience to Indonesia for the first time in his work XFRMR.
Fashion Futures at Jakarta Fashion Week looks into the future possibilities of the fashion industry through discussions on sustainability and collaborative product of young Indonesian and British designers.
Scottish poetry collective Neu! Reekie! are performing their curated work for the first time in Indonesia at the Ubud Writers Festival in Bali. They will also perform in Medan.
UK/Indonesia 2016-18
is a programme of interventions organised by the British Council. Indonesia and the UK are two hugely creative countries. Yet there is currently very little cultural exchange between them, despite there being a vast amount to gain from getting to know each other.
THE TWO PRINCIPAL AIMS ARE:
to build new relationships between artists, producers, curators and organisations in the UK and Indonesia
to use these relationships to see new showcases of UK creativity in Indonesia, of Indonesian creativity in the UK, and of international collaboration in both countries.
UK/Indonesia 2016-18 will work across the full spectrum of arts and creative industries, but there'll be some main priorities and key recurring themes, including: digital culture, music, fashion and independent film.