Study Shows Long-Term Effects of Science Museums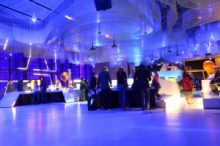 Science museums and fairs have clear positive effects in the long term, both for its visitors and for the cities hosting them
. This is the main conclusion drawn from
a study undertaken in six Spanish cities
, where nine scientific culture initiatives (science museums, planetariums, science fairs, etc.) have been analysed. The three main
effects on the local community
have been found to be:
Museums' and fairs' contribution to the educational system of the city (and surrounding locations) during school years.
Impact on the city's identity and image (specially in providing with characteristics of "cities of scientific culture").
Contribution to the cultural and leisure-time agenda, as well as being an information media for scientific issues.
At an
individual level
, main effects on the visitors are:
In the short term, the emotional impact produced by the exhibit, as well as the fact that their curiosity is raised for a while
In the long term, recurring visitors highlight that these experiences contributed to their own training during school years (and in some cases, also in the training of adults), as well as to the improved perception of their city in its most scientific side and knowledge production. Some people consider themselves better informed than others regarding particular topics, they look for more information, talk about these issues with their acquaintances or even see themselves as real fans.
The research has been coordinated by
Gema Revuelta
, director of the Science, Communication and Society Studies Centre from Pompeu Fabra University (
SCS-UPF
). concludes that "local politicians as well as scholarly and business representatives should take into account these results when planning the cultural activities of a city or when establishing its strategic plans". Other members of the research team include
Núria Saladié, Mari Carmen Cebrián and Hector Rodríguez.
The study implemented qualitative analysis methodologies (12 focus groups with the participation of almost 100 volunteers, and 8 interviews to different people responsible at the analysed centres). Moreover, a qualitative data-analysis software was used (Atles Ti WIN, 7.5 version). The project received funding from the
Spanish Foundation for Science and Technology
– Ministry of Economy and Competitiveness. The
full report is available in Spanish
at
http://ccs.upf.edu/wp-content/uploads/El-impacto-local-de-los-museos-y-ferias-de-ciencia-en-Espa%C3%B1a1.pdf