04 Oct 2015 - 10 Oct 2015
International Training Course: Science Museums and School | Italy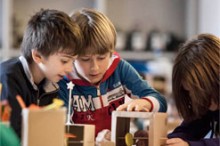 The 11th edition of an international training course entitled
"Science Museums and School: a Cooperation to Improve Teaching, Learning and Discovery"
will be held at the
Museo Nazionale Scienza e Tecnologia Leonardo da Vinci
, in Milano, Italy, on
4-10 October 2015
. The course aims at
fostering the collaboration between teachers and museum educators as facilitators of learning and active engagement in science
. It supports the use of museums as educational resources for teaching and learning in science and as tools of scientific citizenship. The
main topics covered
by the course are:
Learning methodologies: Inquiry-based science learning, tinkering and making
Learning with objects and with interactive activities in museums
The educational role of museums
Museum and school cooperation for science education
'Science and Society' and scientific citizenship
New and digital media as learning tools
"Science Museums and School" lasts six days and is organized in a series of
lectures, museum visits, interactive workshops, discussion games and experimental activities
. All these use the spaces and resources of the host museum taking advantage of its experience and expertise in the field to build useful and transferable tools and competences for participants. The training course is the result of the EU-funded projects SMEC (School-Museum European Cooperation) and SETAC (Science Education as Tool for Active Citizenship).
It has been running since 2004, and so far has trained about 250 teachers and museum educators from 29 countries of the European Union and beyond
. The course is open to the international community of museum educators and school teachers
aiming to create a diversified, trans-national group of participants each contributing their experience and expertise
. After 10 successful editions funded through mobility grants of the EU Lifelong Learning programme, "Science Museums and School" now continues in the context of Erasmus+. Moreover, it is
open not only to participants from the EU but also to the international community of school teachers and museum educators
. All materials used during the course as well as the materials produced by the two European projects SMEC and SETAC are given to the participants at the end of the week.
The course is held in English
. "Science Museums and School" is
held by an international group of experts from Belgium, Denmark, Germany, Hungary and Italy, specializing in a range of fields
: pedagogy, museum education, science education, science & society, research and evaluation, professional development, new media and technologies. The National Museum of Science and Technology Leonardo da Vinci and the Deutsches Museum have the scientific and educational responsibility of the course as well as the responsibility of all organizational aspects. Participants are required to
register by 10 July 2015
. For
additional information about the course and participation conditions
, please visit
http://www.museoscienza.org/smec/courses_11_eng.htm
Pictured
: school activities at Museo Nazionale Scienza e Tecnologia Leonardo da Vinci, Milano, Italy