Paris Cinema 2012: Focus on Hong Kong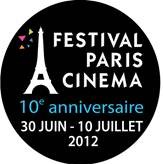 Paris Cinema IFF
is getting ready to celebrate its 10th anniversary from June 30 to July 10, 2012!
Modernity, boldness, generosity, cinephilia and ambition… Here are a few of the values the festival has embodied over the years and that will be once again the core of this new edition celebrating the 10th anniversary of the festival.
Building on the success of the 2011 edition, which had attracted more than 70.000 viewers and visitors, the festival this year features a rich program in various emblematic locations of the French capital, and in the presence of many French and foreign guests.
In 2012, the festival will honor one of the Asian Tigers, Hong Kong, a true city-state with a strong tradition of cinema and famous worldwide for its dynamism.
It is with immense pleasure that Paris Cinema IFF will spotlight the cinema of Hong Kong and pay tribute to its gla­mor, its vital energy and the tremendous creativity of its filmmakers.
Through a selection of more than 80 movies, audiences will be invited to explore a wide panorama of Hong Kong cinema, ranging from melodramas from the '50s and the '60s, rare movies from the Hong Kong New Wave and unreleased movies from the new generation of filmmakers.
This ground-breaking programme is being presented in conjunction with the
Hong Kong International Film Festival Society
, a pioneer since the late 1970s in bringing Hong Kong cinema to the world.
Undoubtedly, these extensive events will contribute to celebrating the great vitality of Paris Cinema IFF, a festival which – in only 10 years' time – developed its own identity and established itself as a must-see event for Parisians and a leading festival on the international scene.
Facts and Figures of the 2011 Paris Cinema IFF


71.707 viewers and visitors [+10.5% compared to 2010]


 International Competition: 3.717 viewers  vs. 2.473 viewers in 2010 [+50%]


Premieres: 12.945 viewers vs. 10.694 viewers in 2010 [+21%]


Tributes and Retrospectives: 10.759 viewers vs. 6.247 viewers in 2010 [+41%]


Special Focus on Mexico: 80 movies, 8.934 viewers


Events: 30.684 spectators and visitors vs. 25.009 spectators and visitors in 2010 [+18%]


 10.133 viewers for the 1st on-line screening ever organized by the festival, in partnership with Dailymotion


367 French and foreign guests


242 movies | 451 screenings, panels, conversations and events