Malta - Guizhou Province cultural cooperation MoU signed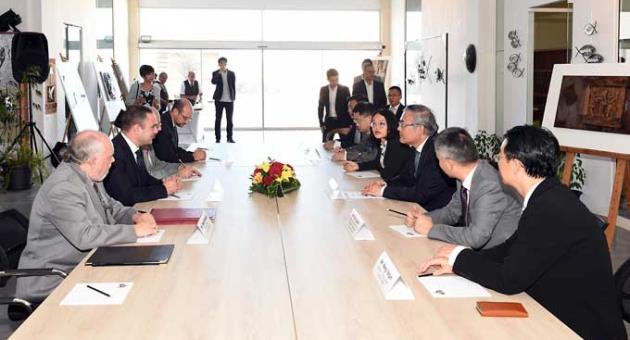 Cultural cooperation between the Maltese Ministry for Justice, Culture and Local Government and the People's Government of Guizhou, Province of the People's Republic of China, will be taken a step further following the signing of a Memorandum of Understanding in the presence of the Maltese Minister Owen Bonnici.
"The Arts Council Malta and Heritage Malta, representing the Maltese side and the People's Government of Guizhou Province, signed the MoU. This MoU provides that over the span of the coming two years, Maltese archaeologists will be invited to visit the prestigious UNESCO World Heritage site of Hailong Outpost. Furthermore, the MoU will also open the door of cooperation on the preservation and development of world heritage sites by taking Maltese experience and measures of developing and protecting local cultural heritage to Guizhou. The MoU also provides for a Maltese expert to be invited to attend the 2019 Forum on Intangible Cultural Heritage co-organised by the Guizhou Provincial Tourism Development Committee and the Guizhou Provincial Department of Culture," the statement read.
"The Guizhou Province will also invite two Maltese specialists on intangible cultural heritage protection to attend the Symposium of Intangible Cultural heritage Protection and Inheritance to be held in Guiyang. The Ministry for Justice, Culture and Local Government attaches great importance to the overriding objective of preserving, encouraging respect and increasing awareness as well as enabling international cooperation in pursuit of our intangible heritage. Earlier this year, the Maltese Parliament had ratified the UNESCO Convention for the Safeguarding of Intangible Cultural Heritage.
"


"Artists are also expected to benefit from this agreement, as it paves the way for a group of Maltese artists to attend the Cultural Arts Festival of Colourful Guizhou which will take place in 2018 and 2019."


The MOU was signed by Executive Chairman for Arts Council Malta, Albert Marshall, CEO for Heritage Malta Kenneth Gambin, countersigned by the Vice-Governor of the People's Government of Guizhou Province He Li.
Report from The Independent, Malta