World Tourism report on Cultural Routes and Itineraries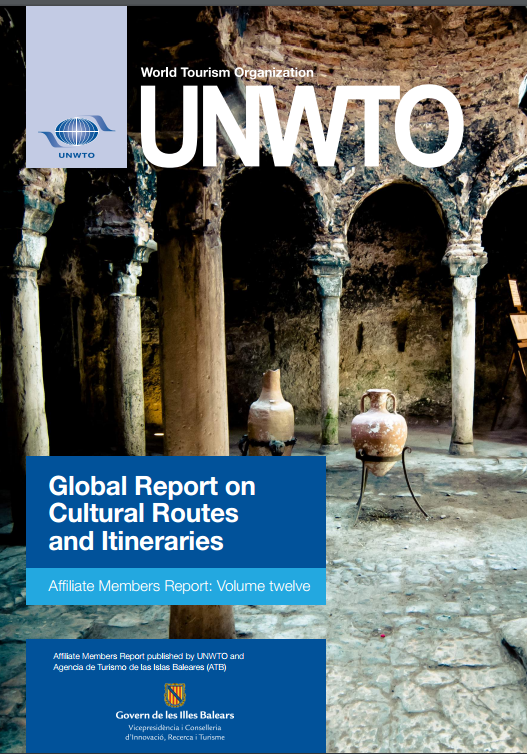 Developed in cooperation with the Tourism Agency of the Balearic Islands (ATB), the Global Report on Cultural Routes and Itineraries of the World Tourism Organization (UNWTO) provides key information about current trends and presents case studies in the field of the development of cultural routes, with an emphasis on the importance of protecting, preserving and conserving these itineraries.
Download publication
in English
"Culture is intimately linked with tourism and this report reflects not only the importance of the protection and preservation of tangible and intangible heritage in tourism development, but also the UNWTO's commitment to these values through initiatives such as the training programmes we carry out or the existence within our Organization of the
Silk Road Programme
," said UNWTO Secretary-General Taleb Rifai.
In addition to featuring how routes of a cultural nature add value to the experience of travellers, the
Global Report on Cultural Routes and Itineraries
also highlights the positive impacts generated by these itineraries in terms of sustainability and benefits for local communities. The publication also reinforces the initiative launched by UNESCO in 2005 consisting of the creation of a specific category in the classification of Heritage Sites devoted to cultural routes by highlighting the relationship between culture and tourism and the importance of public-private cooperation in the development of such routes.
Gabriel Barceló Milta, Vice-President of the Regional Government of the Balearic Islands and head of its Ministry for Innovation, Research and Tourism which is responsible for UNWTO Affiliate Member ATB, said: "This collaboration with the Organization is an opportunity to motivate other destinations to publicize their cultural routes, which not only constitute a valuable asset of a destination, but also play a key role in enabling visitors to better enjoy their experience and get to know other cultures and traditions."
The report was prepared by the UNWTO and the Tourism Agency of the Balearic Islands with the collaboration of nearly 20 UNWTO Affiliate Members, which shared their case studies: Adventure Travel Trade Association, Associação de Hotéis Roteiros de Charme, Bournemouth University, Comune di Venezia, DASTA, Hungarian National Tourist Office, IREST, Madison MK, Observatorio Turístico del Estado de Guanajuato, ProColombia, Região de Turismo do Algarve, SENATUR, Singerman and Makón, STPP, Turismo de Bogota, Universidad del Salvador, Universitaria Los Libertadores, University of Bologna, University of Business in Prague and University of Molise.