from - to
28 Sep 2013 - 27 Oct 2013
Kyoto Experiment 2013 | international performing arts festival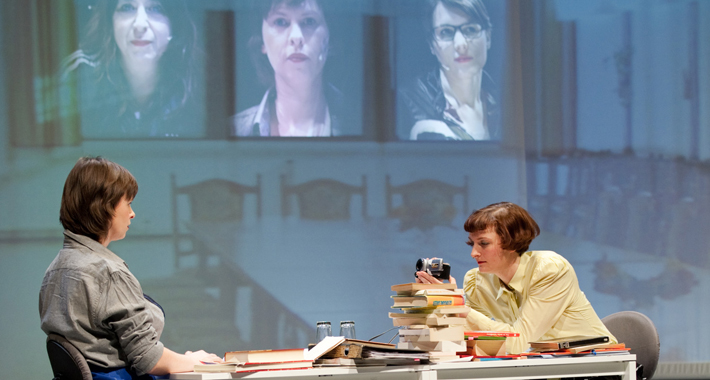 Kyoto Experiment 2013 international performing arts festival runs in September/October 2013. Kyoto Experiment is celebrating its 4th year. It brings together cutting edge performing arts and artists from Brazil, Germany, England, Argentina as well as Japan.
Encountering unconventional work that expands existing notions and genres is at the heart of this experiment. In addition to introducing international world premiere pieces, the festival co-produces new works with artists. Harnessing its international network, the festival itself operates as a space where new creativity can flourish. Featured in this year's programme is a premiere in Japan of 'Drawers' by
She She Pop
, a female performance collective from Germany, on 18-20 October. The company will stay on in Kyoto for a residency to create new work.
She She Pop
see their mission as exploring the social boundaries of communication – and transgressing them in a purposeful and artistic way in a protected theatrical space. They have a specific aesthetic and ideological profile. Their shows are developed as a collective. There is no director – and also no author or actors. Texts and concepts are developed together. Their theatrical approach is intellectual and humorous at the same time. In "Testament", performed at Kanagawa Arts Theater in 2011, the actors' own fathers were cast in their adaption of King Lear.
"Schubladen (Drawers)" is She She Pop's latest work and premiered at HAU Berlin in 2012. The work looks at a half century of European history before and after the fall of the Berlin Wall. 3 East-born and 3 West-born performers search their memories / letters from drawers, excerpts from journals, and favorite records. They talk about, sometimes laugh at and other times dance with the history of the East-West German division. The ideological gap between the two countries, revealed by their personal stories, is sure to resonate with a Japanese audience. The company will stay in Kyoto for an artist's residency to research / create a new production, which will be shown at the upcoming Kyoto Experiment. Image: She She Pop - photo: Benjamin Krieg